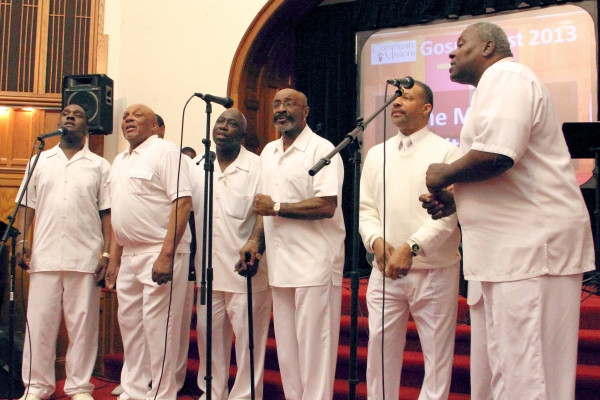 Click here to learn about the history of Gospel Fest
Music With A Mission Benefit Concert
The Men In White & The Chapel at Crosspoint Choir invite you for an evening of music to support,celebrate and honor the work of Community Missions of Niagara Frontier, Inc.
Who: The Men In White Choir with their Special Guest The Chapel at Crosspoint Choir
What: A concert to benefit Community Missions.
Where: First Baptist Church Niagara Falls - 554 Main St. Niagara Falls, NY 14301 (See Map)
When: Sunday, July 27, 2014 at 5 p.m.
Admission is Free and light refreshments will be served after the concert.
Details:

TheMen in White Choir & The Chapel atCrosspoint Choir are please to invite you to 'Music With A Mission', a special concert to benefit Community Missions of Niagara Frontier.Join these wonderful choirs for an evening of music to celebrate and honor the work of Community Missions. During the concert, a free will offering will be collected to help support the work and ministry of Community Missions.
When you hear about the great work that Community Missions has been doing for those in need since 1925, we know that you will be inspired. Please join us and learn how all of us are called to serve.
---
Thank you to our Sponsors! Please visit them today!
(If you would like to become a sponsor, click here for more information.)
Special thanks to AV Solutions for providing Audio/Visual Support for the concert.

AV Solutions, Upstate New York Audio-Video Integrator for Business.
Offering Consultation, Design, Installation, and Service.
Toshiba Business Solutions | AV Solutions
100 Colvin Woods Parkway, Tonawanda, NY 14150
Direct: 716-362-7419 Cell: 716-695-9382
Service/Supplies: 800-727-4264
www.tbs.toshiba.com | AV Solutions
View Larger Map
---
Gospel Fest
Community Missions first presented Gospel Fest to the community in 1998. This annual event features an evening of music performances by choirs, soloists, and bands from various churches, ministries, and organizations in Niagara County. The main purpose of the event is to raise awareness within the Niagara faith community about the work of the Mission and to encourage increased participation in that work. The event also serves as a food drive and a limited fundraiser. The Food Drive is accomplished by having "Admission" be a donation of a non-perishable grocery item. The limited fundraising goals are reached by a free-will offering, the sale of sponsorship ads in the event's program brochure, and various other opportunities that have changed from year to year.
Gospel Fest has been held at various churches throughout Niagara Falls, including St. Paul's United Methodist Church, Zion Evangelical Lutheran Church, Forestview Church of God, Mt. Erie Baptist Church, and most recently at the First Assembly of God on Niagara Falls Blvd., Niagara Falls, NY.
People often ask us if it is only Gospel Music at Gospel Fest? When it first began, that was the main focus, but even at the very first event, we ended up with a wide variety of musical styles. That tradition continues on today.
The Gospel Fest offers gospel music, classical selections, traditional hymns, contemporary worship songs, praise bands, folk music, bell choirs... just about any style you can name. It is truly a community music event that has something for everyone.
Some performers have come back year after year, and each year new ones appear. There are groups from churches as well as other community organizations and individual performers. It is all about supporting Community Missions by encouraging involvement. We are always so grateful for all those who help support the Mission by performing and working at this event.