Featured News - Current News - Archived News - News Categories
Second Annual Project Connect Niagara Scheduled for July 26
by Christian Hoffman
Event provides wide range of services to individuals throughout Niagara County
Fri, May 12th 2017 02:00 pm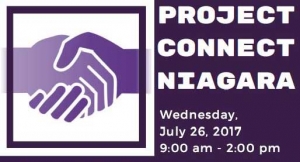 NIAGARA FALLS, N.Y. - Project Connect Niagara, an event designed to connect those in need with critical services in a "one-stop" venue, will take place on Wednesday, July 26 from 9 a.m. to 2 p.m. at Heart, Love, and Soul Food Pantry & Dining Room in Niagara Falls, N.Y.
Last year's event saw approximately 265 attendees, each of which whom able to connect with more than 40 organizations that were represented. Those attending were able to access free services and resources including housing, employment, government benefits, Veterans' benefits, and legal services. Also on hand was Mount St. Mary's Hospital, offering several free medical services. Transportation was provided from local communities to the event.
"We are very excited to launch the second year of Project Connect Niagara," said Adam Bartoszek, committee chairperson. "When we had the idea to bring this event into Niagara County, we weren't sure how it would be received. We had a tremendous response to last year's event. It was gratifying to hear the stories of those receiving services, and the service providers as well, of how much they got out of the day. We are looking for an even larger turnout this year!"
The event is presented by the Niagara County Coalition of Services to the Homeless, in conjunction with the Annual Niagara County Poverty Conference. With a goal of making a positive impact on the community, the Project aims to form a partnership between community volunteers, city government, non-profits, and the private sector to provide this "one-stop shop" of health and human services for those in need throughout Niagara County.
Agencies interested in participating in Project Connect Niagara should visit www.niagara.edu/projectconnect and complete the form as space is limited. For additional information about the event, please call 716.205.0287 or email projectconnectniagara@gmail.com.
By The Numbers...
In 2016, Community Missions provided:

• 11,104 nights of shelter
• 89,366 meals
• 6,744 individuals with clothing
• 2,295 care days in Youth Services
• 46,888 care days in Recovery Services
• 73,994 care days in Housing Services
• 182 opportunities for Faith Development