Apartment Treatment Program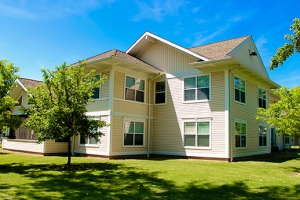 The Apartment Treatment Program is a transitional residence treatment program designed to facilitate movement to the resident's permanent housing choice. Some apartments are located at a main complex in Niagara Falls, adjacent to staffing offices, for more intensive support and structure. Additional apartments are available throughout the community for those needing less support. For more information, please contact 716.285.3403 x. 2275. You may also access the Niagara County Adult Single Point of Access (SPOA) application form here.
Single and double units are available in both on-site and community settings. In addition, two handicap accessible double units are available. Staffing is provided 14-16 hours per day with 24 hour on-call availability, while a Security Guard/Housekeeper is on-site from 11 p.m. - 7 a.m.
The program is certified by the New York State Office of Mental Health as a Supportive Apartment Treatment Program. The program fits within the agency's Mental Health Housing Services, often as an initial step toward independent living. The Apartment Treatment Program has trained staff that provide case management services and Psychiatric Rehabilitation Planning with input from family members/advocates and involved service providers. The following Restorative Services are provided as part of that plan:

* Assistance and training in Activities of Daily Living (financial management, meal planning and preparation, shopping, clothing care, housekeeping, and personal hygiene)
* Assertiveness/Self-Advocacy Training
* Community Integration Services/Resource Development, accessing Health Services
* Substance Abuse Services
* Medication Management and Training
* Rehabilitation Counseling
* Symptom Management
* Skill Development
* Socialization
* Parenting Training
* Family Education and Support
Choice and intensity of services provided is based upon resident preferences as well as assessment of needs and functioning levels.
Other services available to all CMI consumers:
* Family and Consumer Advisory Boards
* Family Services Program
* Transportation
Cleveland Heights Walk-Through Video:
By The Numbers...
In 2022, Community Missions provided:
• 13,647 nights of shelter
• 218,178 meals
• 1,425 individuals with clothing
• 2,886 care days in Youth Services
• 40,978 care days in Recovery Services
• 72,642 care days in Housing Services
• 410 reflections & resources for Faith Development