Welcome to Community Missions
Since its founding in 1925, Community Missions (CMI) has provided a unique blend of services to address the needs of the Niagara community. In general, CMI serves a vulnerable population of individuals that, through a variety of circumstances, have been underserved, marginalized, overlooked and challenging in their presentations and behaviors.
The initial population served was homeless individuals and families, which are still served today. The agency currently provides 19 programs within its four divisions: Crisis & Community Services, Mental Health Housing Services, Mental Health Recovery Services, and Youth Services.
The agency serves a diverse set of populations, including youth, adults, families, homeless, youth involved with the juvenile justice system, youth and adults with psychiatric challenges, persons living with HIV/AIDS, trafficked youth and adults, and ex-offender parole individuals.
George grew up in Niagara Falls, unfortunately in a broken household. When George was young, his parents' divorce was blamed on him. On top of that, George was born with a learning disability, and he was placed into special classes at school.
"I would sneak into school after the bell rang because I didn't want anyone to see me going in special classes," George said.
---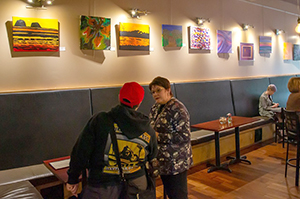 Community Missions is partnering with Wine on Third to present a showing of artwork from its Niagara Visions PROS program over the next month. The works of art, produced in the Mental Health program, will be featured from May 20-June 17 at the restaurant, with an opening reception scheduled from 5-8 p.m. on Monday, May 20.
---
The REACH (Residential Environments Allowing Children Hope) Division of Community Missions provides a safe haven for neglected, abused and troubled youth, ages 7-17. This marks the 28th year that the Niagara County Community Libraries and other community supporters have graciously sponsored the "Tidings of Joy" Campaign, benefiting youth in our programs.
---
By The Numbers...
In 2018, Community Missions provided:
• 13,268 nights of shelter
• 119,083 meals
• 6,081 individuals with clothing
• 3,198 care days in Youth Services
• 46,703 care days in Recovery Services
• 70,997 care days in Housing Services
• 227 opportunities for Faith Development