Careers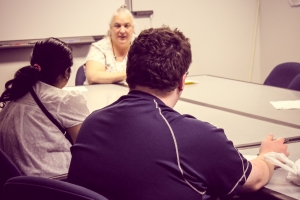 Since 1925, Community Missions has served the increasing needs of the Niagara community. Currently, we have programs focused on food, housing, criminal justice, mental health, juvenile justice and other areas. We are always looking for talented and qualified people to become team members. CMI employees are compassionate, dedicated and creative professionals, willing to promote a climate of empowerment and trust while seeking to maximize an individual's potential. Community Missions is currently looking for qualified persons with a wide range of skill sets for several positions.
Visit our listing of available job opportunities.
Employee Benefits Include:
Competitive pay with a generous paid time off plan
Flexible scheduling of hours
Agency contribution to Health Insurance Plan (includes domestic partnership), including dental, vision, life and long-term disability insurance
Training and certification opportunities - Supervision for Licensure Available
Employee Assistance Program (EAP)
Promotion from within
Free Parking at Work Sites
Employee wellness efforts
Staff recognition and recreation opportunities
In 2020 & 2021, Community Missions was honored as a Finalist in Buffalo Business First's Healthiest Employers Competition, read about it here!
Equal Employment Opportunity
This company is an equal-employment-opportunity employer and does not discriminate against any employee or applicant on the basis of race, creed, color, sex, age, marital status, familial status, disability, sexual orientation, gender identity, religion, national origin, military service, arrest/conviction record or any other protected class under federal, state or local law.
By The Numbers...
In 2022, Community Missions provided:
• 13,647 nights of shelter
• 218,178 meals
• 1,425 individuals with clothing
• 2,886 care days in Youth Services
• 40,978 care days in Recovery Services
• 72,642 care days in Housing Services
• 410 reflections & resources for Faith Development