Community Soup Kitchen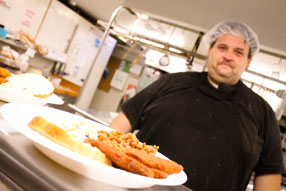 The Community Soup Kitchen opens its doors at 11:30 a.m. each Monday through Saturday to provide nutritious, well-rounded meals to anyone that walks through its doors. The program is open to anyone, and served over 30,000 meals last year.
Food served in the kitchen comes from the Emergency Food & Shelter Program, the Food Bank of Western New York and donations from local churches, organizations, businesses, and individuals.
Guests in the Community Soup Kitchen are also invited to visit the Clothes Closet to select clothing, accessories and household items free of charge following their meal.
What: Community Soup Kitchen
Where: 1570 Buffalo Ave. Niagara Falls, NY 14303
When: Doors are open from 11:30 a.m. - 12:30 p.m. each Monday through Saturday
Contact: 716-285-3403
By The Numbers...
In 2019, Community Missions provided:
• 13,142 nights of shelter
• 112,562 meals
• 5,085 individuals with clothing
• 2,835 care days in Youth Services
• 43,973 care days in Recovery Services
• 72,450 care days in Housing Services
• 192 opportunities for Faith Development