Niagara Visions PROS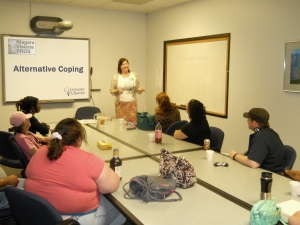 Since 2011, Niagara Visions PROS has helped individuals to achieve the goals they set for themselves. This is a rewarding process that can be attained thanks to the dedicated staff of professionals within the program, and the work and determination of the individuals themselves.
For more information, please contact 716-205-8708, or download the Niagara Visions PROS brochure here.
Personalized Recovery-Oriented Services (PROS)
PROS is a comprehensive, recovery-oriented program for individuals with psychiatric disabilities.
PROS supports goals directed by the individual. This might include improving functioning, gaining employment, attaining higher levels of education, securing preferred housing and learning about wellness management.
PROS strives to integrate person-centered planning into each facet of its design.
PROS focuses on increasing rates of integrated, competitive employment among participants.
PROS integrates treatment, support and rehabilitation in a manner that facilitates recovery.
PROS staff truly believe that recovery is possible for each participant as they choose.
PROS is primarily a Medicaid reimbursed program, with State Aid and Medicare as additional funding sources.
What is the goal of PROS?
The goal of PROS is to help individuals move beyond simply "managing" mental illness and toward living full, productive lives within the context of their own unique personal goals and aspirations. The development of the "person-centered plan" is the place where recovery and attainment of personal goals begins. PROS provides the framework for the recovery process; the person-centered plan provides the vehicle.
PROS supports an individual's personal journey towards recovery by providing services targeted to help them overcome barriers that stand in the way.