Respite Services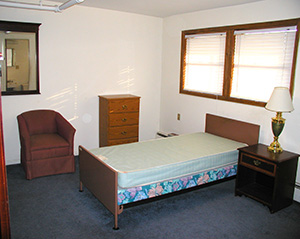 The Respite Bed Service provides emergency housing for individuals who meet the Division's admission criteria. This Program provides an organized alternative to hospitalization, by offering support, encouragement and assistance to individuals to enhance their participation in the community.

The Respite Bed Services is provided in either Lockport or Niagara Falls depending on the clients needs, anticipated length of stay, and community of choice.The following have been determined as reason for respite stay:
Hospital admission diversion
Transitional housing
Symptom Management
Temporary time out
The CMI Respite Bed Service provides:
Private/semi-private room with full bath
3 meals per day
24 hour staffing
Medication monitoring
Transportation to and from appointments
Linkages
Peer counseling
The Respite Bed Program services the seriously and persistent mentally ill adult, at least 18 years of age.

To make a referral and for more information and assistance, contact the Respite Bed Department by calling (716) 285-3403.
1570 Buffalo Avenue
Niagara Falls, NY 14303
(716) 285-3403
Fax (716) 285-3529
By The Numbers...
In 2016, Community Missions provided:

• 11,104 nights of shelter
• 89,366 meals
• 6,744 individuals with clothing
• 2,295 care days in Youth Services
• 46,888 care days in Recovery Services
• 73,994 care days in Housing Services
• 182 opportunities for Faith Development