Free Family Portraits Give the Gift of Memories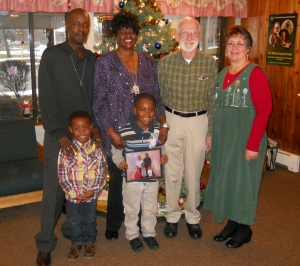 Through the generosity of Bob and Jan Inwards, Community Missions again provided family and individual portraits during the Christmas season. This is the third year the Inwards gave of their time and talent to present the opportunity for this special gift to 33 of those who use the mission's services.

"To get a family portrait is often too expensive for many families," Bob Inwards said. "The portraits capture a moment and help us remember those we love whenever we see those photos."

In October, Community Missions began offering appointments for the free portraits alongside the adopt-a-family Christmas program, which provided families help with gifts during the holidays. Signups were offered to guests who come to the mission's community soup kitchen. They were scheduled over a three-day period in early November, when Bob and Jan set up at the mission for most of the day and into the evening with professional backdrop, lighting and cameras.

"We just love taking the time to be at the mission doing this," Jan Inwards said. "People are happy and laughing, and are so excited to see the picture, because we can show them what they look like on the computer to make sure they are happy with how they turn out."

After the photos are taken, Bob edits the selected photo and sends them out to get printed. Each family gets a single 8-by-10 print, as well as a CD with the files of the several photos taken. This year, Community Missions provided each portrait in a frame. The portraits were ready for the families to pick up well before Christmas.

"We had a portrait done last year, and then we came back this year, and we like this one even better," said Leon Street, who posed with his wife and three grandchildren. "We appreciate being able to do this. We wouldn't be able to get it done for free anywhere else!"

Bob always had an interest in photography and has taken it up more intensely in his later years.

"I was looking for a way to use photography to do some good in the community," he explained. "Then, a little over three years ago, Pastor Mark Breese, the minister at Community Missions, came to speak at our church (Pendleton Center United Methodist Church). Jan and I thought, 'Why don't we see if there is a way we could help the mission?' So we talked with him after the service."

Since then, Bob has done more than just the portrait project each year. He has volunteered his time to document countless events and fundraisers the mission has held. Volunteers and staff were so appreciative of his help, they honored him at the 2014 Compassion in Action Awards brunch.

"The Inwards have been wonderful to us," said Andrea Gray, events and volunteer coordinator at Community Missions. "Many times we don't even have to call him. He sees our announcement of an upcoming event, and he calls us to ask if we could use his services."

"It is such a blessing to have something like this available to those we serve," said Breese, agency minister and director of ministry and community partnerships. "The Inwards are people of faith who took seriously the call to use their gifts to serve others. This project brings joy to many people during a time when there is often stress and sadness. It is a special way of ministering and helping people see that there is a reason to celebrate, and to find the joy that Christmas tells us about - the joy of the Christ child being born and a family being created, even if it begins somewhere as humble as a stable in Bethlehem."
* Community Papers of WNY Article

comments powered by Disqus
By The Numbers...
In 2022, Community Missions provided:
• 13,647 nights of shelter
• 218,178 meals
• 1,425 individuals with clothing
• 2,886 care days in Youth Services
• 40,978 care days in Recovery Services
• 72,642 care days in Housing Services
• 410 reflections & resources for Faith Development