StickersBanners.com On Board as Sweetheart Dinner Step & Repeat Backdrop Sponsor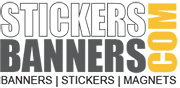 StickersBanners.com recently joined the efforts for Community Missions' 18th Annual Sweetheart Dinner, coming on board as the Step & Repeat Backdrop Sponsor for the agency's event, to be held on Friday, Feb. 6 in Niagara Falls, N.Y.
The Step & Repeat section is just one of many exciting additions to the annual event, which is being held for the first time at the Conference and Events Center in downtown Niagara Falls. At the Step & Repeat, Mission volunteer photographer Bob Inwards will take photos of guests posing front of the banner, while guests are also encouraged to take photos on cell phones, then post pictures from the event on their social media accounts. The evening will once again include over 110 baskets, silent auction items, raffles and door prizes, live music provided by Celtic Cross Duo, along with a celebration of the Mission's 90th Anniversary.
"We are so excited to partner with a great company like StickersBanners.com," said Christian Hoffman, Communications & Development Manager for Community Missions. "The backdrop looks terrific, and we are excited for our guests to enjoy this fun new experience."
Based in Duluth, Ga., StickersBanners.com is committed to supporting hardworking organizations and causes further their mission and/or outreach. The company recently sponsored the 85th Annual Academy Awards, as well as many other high-profile events.
Community Missions has provided the Niagara community with a wide range of vital services since 1925. In 2013, CMI provided over 75,000 meals and nearly 11,000 nights of care within its crisis services programs. Additional agency programs serve adults and youth with psychiatric disabilities, parolees, at-risk youth and other underserved populations in both residential and recovery-oriented settings.
comments powered by Disqus
By The Numbers...
In 2022, Community Missions provided:
• 13,647 nights of shelter
• 218,178 meals
• 1,425 individuals with clothing
• 2,886 care days in Youth Services
• 40,978 care days in Recovery Services
• 72,642 care days in Housing Services
• 410 reflections & resources for Faith Development