Letter Carriers' Food Drive Coming May 14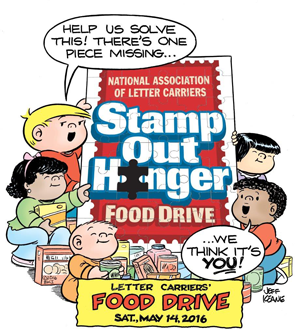 Twenty-five years ago, the National Association of Letter Carriers launched an idea, of collecting food for the needy as part of their community service effort. What began as a humble drive in 10 cities has now grown to a nationwide force of giving back!
On Saturday, May 14, Niagara County will again have the opportunity to join with other communities throughout the country in making a difference. Each year, residents are asked to donate canned goods and non-perishable foods (within date and preferably not in glass jars) by placing them next to their mailbox and/or on their doorstep the day of the drive. Letter carriers then pick up the donations and pass them on to nearby food pantries.
The importance of collections like these cannot be overstated. For pantries like the one founda t Community Missions, the food collected at such events goes a long way toward making a positive impact for those in need.
Community Missions provided 87,136 meals in 2015; over 10,000 more meals than 2014! Your contribution of canned fruit and vegetables, pasta sauce, tuna, peanut butter, jam, etc. will help ensure that we have food whenever anyone comes to us hungry.
The need is great in our community. The Letter Carriers' Food Drive plays a vital role in filling pantries entering the busy summer season. Please be as generous as you can on May 14. On behalf of the many people who will benefit from your kindness, I thank you!
comments powered by Disqus
By The Numbers...
In 2022, Community Missions provided:
• 13,647 nights of shelter
• 218,178 meals
• 1,425 individuals with clothing
• 2,886 care days in Youth Services
• 40,978 care days in Recovery Services
• 72,642 care days in Housing Services
• 410 reflections & resources for Faith Development