25th Annual Stamp Out Hunger Food Drive to be held May 13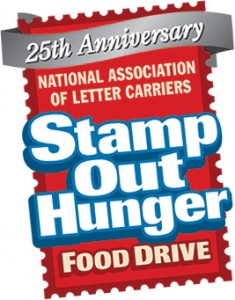 On Saturday, May 13, the National Association of Letter Carriers will celebrate the 25th Anniversary of its Stamp Out Hunger Food Drive. What a wonderful milestone for this community-driven effort that has helped countless individuals and families throughout the country!
Each spring, Niagara County joins with thousands of communities across the nation to impact the lives of those in need. Thanks to the leadership and hard work of the National Association of Letter Carriers, this event provides more donations to stock our shelves here at Community Missions than any other single day of the year.
The best part of the effort is how easy it is for you to participate! Just leave canned goods and non-perishable foods (within date and preferably not in glass jars) next to your mailbox and/or on your doorstep on Saturday, May 13. Letter carriers then pick up the donations and pass them on to nearby food pantries. It's just that simple!
Your participation is vital for food pantries and kitchens like those found at Community Missions. Each year brings an increased demand for our food programs. In 2016, we provided over 89,000 meals, an increase of more than 12,000 meals from just two years ago!
Your contribution of canned fruit and vegetables, pasta sauce, tuna, peanut butter, jam, etc. will help ensure that we have food whenever anyone comes to us hungry. Please be as generous as you can on May 13. On behalf of those that will benefit from your kindness, I thank you!
comments powered by Disqus
By The Numbers...
In 2022, Community Missions provided:
• 13,647 nights of shelter
• 218,178 meals
• 1,425 individuals with clothing
• 2,886 care days in Youth Services
• 40,978 care days in Recovery Services
• 72,642 care days in Housing Services
• 410 reflections & resources for Faith Development