2017 Compassion In Action Awards - Katie Alexander - WIVB-TV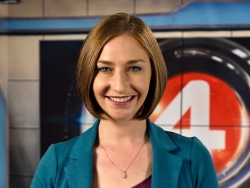 Community Missions will hold its 25th Annual Awards Brunch on Wednesday, May 24 at the LaSalle Yacht Club. Each day leading up to the event, we will profile one of the upcoming honorees. Today, Katie Alexander of WIVB-TV, recipient of the Media Award, will be featured.
Katie Alexander has become a valued supporter of Community Missions, covering numerous events and stories for Community Missions over the past year and a half. Ms. Alexander has come out to the Mission to cover the past two #GivingTuesday events, providing live coverage on Wake Up!, WIVB and WNLO's morning show. She has also provided coverage of the Gardens of Compassion initiative and a collection of goods conducted by a former CMI employee for the Missions' benefit.
In addition, last year she chose Community Missions as her charity as she competed in a Celebrity Cheese Stacking competition at Buffalo's Italian Heritage Festival. She 2015 champion defended her crown, earning CMI a $1,000 donation!
Community Missions is thankful for the continued support of Katie Alexander. Her professionalism, sincerity and sense of adventure make her stand out, as she continually delivers the message that the Mission is looking to broadcast. Thanks again Katie!


comments powered by Disqus
By The Numbers...
In 2022, Community Missions provided:
• 13,647 nights of shelter
• 218,178 meals
• 1,425 individuals with clothing
• 2,886 care days in Youth Services
• 40,978 care days in Recovery Services
• 72,642 care days in Housing Services
• 410 reflections & resources for Faith Development