2017 Compassion In Action Awards - Michael Lewis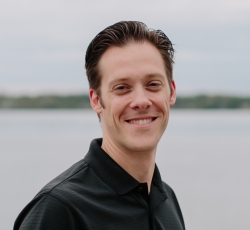 Community Missions will hold its 25th Annual Awards Brunch on Wednesday, May 24 at the LaSalle Yacht Club. Each day leading up to the event, we will profile one of the upcoming honorees. Today, Michael Lewis, Ph.D., recipient of the Sharon Kroetsch Memorial Award, will be featured. This award is given in memory of former board member Sharon Kroetsch who worked tirelessly on behalf of the Mission and those who come to our doors in need.
Michael Lewis joined Community Missions' Board of Directors in 2009 at the age of 28 as a way to give back to his community. After having completed his first three-year term on the Board, he was voted as President in September 2011, a role he continues on through today.
Always willing to tackle a challenge, Michael has worked as an example and role model to engage the Board in a number of strategic initiatives to highlight and secure the support of other community partners in the work of the Mission. He uses data, logic and the art of persuasion deftly to complete this mission, which benefits those served by CMI.
Michael is an active partner and planner in the work of the Mission. He offers patience, strategies, a calming voice in the "storm", creativity, passion, and even cheerleading when necessary, as he and the Board determine and guide the Missions' present and future course. Never swaying from his objectives, Michael's focus is on the long term health and stability of Niagara County's largest private and most diverse not for profit serving the county. Michael can look beyond immediate needs and see the future goals for the agency, even as others doubt its possibility.
In addition to his full time work as the Director of Special Education and Student Services in the Kenmore-Tonawanda School District, Michael and his wife, Dr. Mindy Scime, are co-owners of Living Wellness of Niagara, a local wellness center on North Main Street in Niagara Falls. He is also a partner in Power City Eatery, a NYC style restaurant in the heart of the 3rd Street Entertainment District that opened in 2016.
Michael holds a variety of degrees: Bachelor's Degrees in Psychology and Criminal Justice, a Ph.D. from University of Buffalo in Counseling and School Psychology; and more recently a Master's Degree in Educational Leadership from Niagara University. He is a graduate of Leadership Niagara Class of 2016 and a recipient of the "40 Under 40" Award from Buffalo's Business First. He is the father of two daughters and is an avid cyclist; recently competing in the NYC Triathlon.
comments powered by Disqus
By The Numbers...
In 2022, Community Missions provided:
• 13,647 nights of shelter
• 218,178 meals
• 1,425 individuals with clothing
• 2,886 care days in Youth Services
• 40,978 care days in Recovery Services
• 72,642 care days in Housing Services
• 410 reflections & resources for Faith Development