Gratitude Campaign Letter to the Editor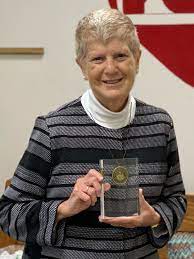 On April 26, the Niagara Gazette ran a Letter to the Editor from Sister Beth Brosmer, OSF. Following 11 years as Director of Heart, Love and Soul Food Pantry in Niagara Falls, Brosmer joined the Community Missions' Board of Directors. Her idea of launching a "Gratitude Campaign" is one the Mission fully supports, and is another way of living out our tagline of showing Compassion In Action. Her letter reads below...
In the last couple of years of political polarization, racial realities, a worldwide pandemic, and now a war in Ukraine, I have found myself feeling isolated and unconnected. This has probably been the experience of many of us. The negativity has sapped my energy and has lessened my basic interactions with others, holding me hostage in unnamed anger and angst.
Considering all of this, I have decided to make a simple change in how I go about my day. Instead of simply driving past various workers, I plan to stop, roll down the window, and say a simple 'thank you' for what they are doing to help all of us. With this small gesture, I want to reclaim a sense of connectedness. I want to make eye contact and acknowledge out loud the good they are doing for our community. As I thank utility workers, street improvement crews, pot-hole menders, letter carriers, and those who keep the water flowing, I'm finding that these simple gestures make a positive difference in how I feel. I hope that showing my gratitude feels good to the receivers, but even more, I hope it changes my overall attitude as it may bring a smile, at least sometimes, to those receiving my thanks.
So, will you join me in a little "gratitude campaign?" With small steps like stopping and thanking, we can gradually reclaim our shared humanity that will be nourished when we show simple gratitude to those who make our lives livable and comfortable.
Sister Beth Brosmer, OSF
comments powered by Disqus
By The Numbers...
In 2022, Community Missions provided:
• 13,647 nights of shelter
• 218,178 meals
• 1,425 individuals with clothing
• 2,886 care days in Youth Services
• 40,978 care days in Recovery Services
• 72,642 care days in Housing Services
• 410 reflections & resources for Faith Development