Interfaith Community Prayer
Service for Mental Illness
Recovery and Understanding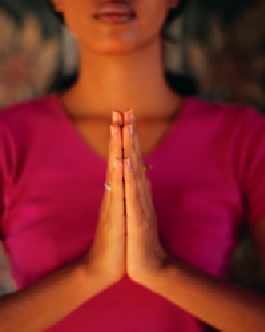 Tuesday, Oct. 9, 2018 @ 3:30 PM
First Congregational
United Church of Christ
822 Cleveland Ave.
Niagara Falls, NY 14305

Presented by:
Community Missions
And
Niagara Falls Medical Center
The numbers are startling.
Nearly one of every five adults in the United States - over 43.8 million - experiences mental illness in a given year.
One in 25 - over 10 million - experiences a serious mental illness in a given year that substantially interferes with or limits one or more major life activities.
Community Missions of Niagara Frontier and Niagara Falls Memorial Medical Center along with organizations like the National Alliance on Mental Illness work hard to fight stigma, support and educate the public and advocate for equal care, even as we provide that care to people in need of mental health services. We know raising community awareness and encouraging people who need those services to seek them can make a big difference.
On Tuesday, Oct. 9, 2018 at 3:30 p.m., Community Missions and Memorial Medical Center will sponsor an Interfaith Community Prayer Service for Mental Illness Recovery and Understanding. The service will be held at First Congregational United Church of Christ, 822 Cleveland Ave., Niagara Falls.
Among those slated to speak are:
Rev. Vince Eisaman – Pastoral care provider at Memorial Medical Center and pastor of Lewiston's United Baptist Christian Church
Rev. Raymond Allen, pastor of Bethany Missionary Baptist Church and president of the Niagara Ministerial Council
Dinah Porter -- Community & Cultural Advisor of the All Our Relations Project, Native American Community Services of Erie & Niagara Counties
Rabbi Ellen Franke and Bill Bell -- Temple Beth El in Niagara Falls
Rev. Joseph L. Levesque, C.M. -- President emeritus, Niagara University;
Fr. Raphael Barberg – St. George Orthodox Church, Niagara Falls
Kuldip Singh Cheema – President, Niagara Sikh Association
Joyce Sconiers -- Niagara Wellness Connection Center and God's Woman Vanessa Scott Outreach Ministries
Music will be provided by Judy Maggs and the Rev. Matt Kofahl of St. James United Methodist Church, and music teacher Mary Kofahl of Cataract Elementary School.
This National Day of Prayer is part of Mental Illness Awareness Week (MIAW,) which is October 7-13 in 2018. Established by an Act of Congress in 1990, MIAW is observed in the first week of October and is an opportunity to learn more about serious mental illnesses such as major depression, bipolar disorder and schizophrenia.
Please join us for this observance.
Faith leaders from diverse faith traditions will join mental health consumers, their families and community members to seek sacred guidance and help in replacing misinformation, blame, fear and prejudice with truth and love in order to offer hope to all who are touched by mental illness.
Light refreshments will be served following the service. We hope to see you there.
If you have questions or need more information, please contact Rev. Mark Breese, 716-285-3403 ext. 2259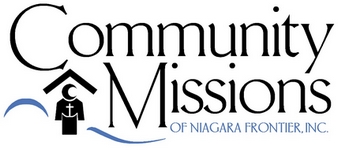 Please help get the word out about this service. Please share on social meida or print and post flyers.
8x11 Poster for Prayer Service
Image for email, websites and Social media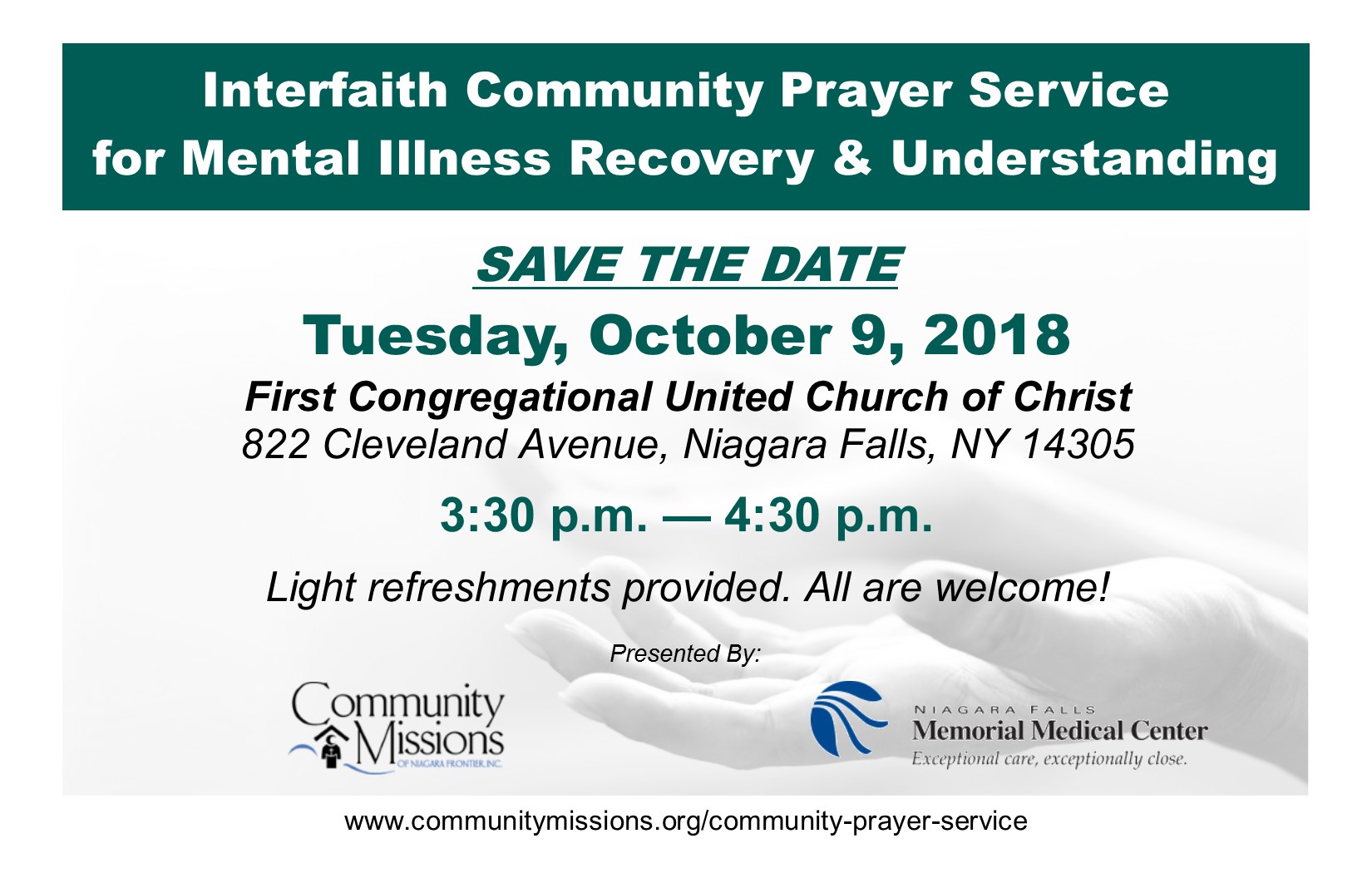 By The Numbers...
In 2018, Community Missions provided:
• 13,268 nights of shelter
• 119,083 meals
• 6,081 individuals with clothing
• 3,198 care days in Youth Services
• 46,703 care days in Recovery Services
• 70,997 care days in Housing Services
• 227 opportunities for Faith Development