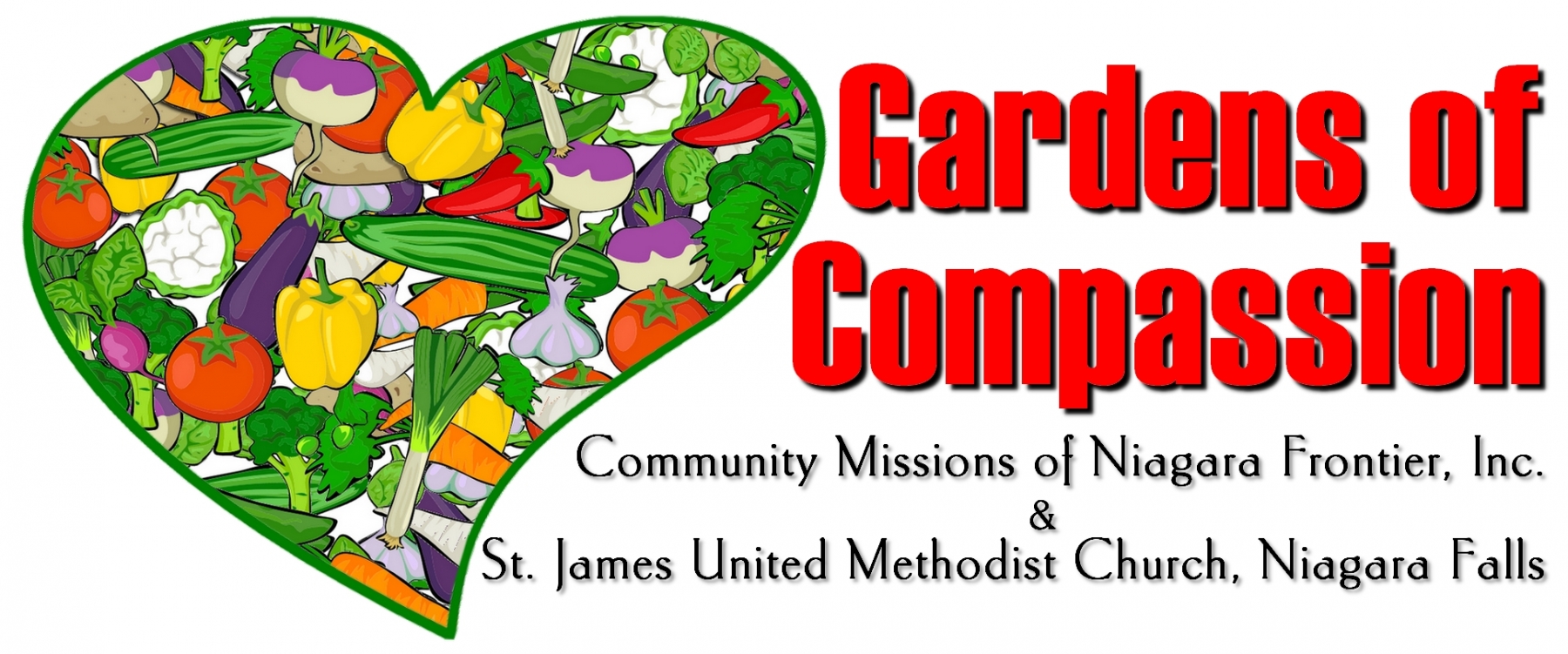 Facebook.com/GardensOfCompassion
Community Missions and St. James United Methodist Church are please to present a series of Gardens of Compassion Free Community Events. The whole community is invited to attend these Free events!
Summer 2016
We have three special community events planned for the summer so far. All events are held at:
St. James United Methodist Church
4661 Porter Road, Niagara Falls, NY
Time: 7:00 PM - 8:00 PM
---
Wednesday, July 27, 2016
Caring for Creation Presentation: "Food Is Our Medicine"
Description: This presentation will explore food, farming, indigenous plants, health, and the idea of Caring for Creation from a Native American perspective.
Speaker: Ken Parker is Native Plant Consultant and Project Director of the Haundenosaunee Community 'Food Is Our Medicine' Project at the Seneca Nation of Indians.
---
Wednesday, August 24, 2016
Concert By The Gardens: Wing And A Prayer
Description: Join us for an Outdoor Concert by the Gardens of Compassion by Wing and a Prayer. Performing at local churches and community events in Western NY for over 20 years, Wing and a Prayer presents a mix of original music along with Old Gospel, Rock, and Folk standards. It is music for the whole family.
If there is inclement weather, the concert will be held inside the church.

Poster
---
Wednesday, August 31, 2016
Caring for Creation Presentation: Is Christianity Good News For The Environment?
Description: We live in a time of increased concern about environmental realities. Our faith traditions provide a moral compass for life and living, yet often fail to respond to a responsibility related to the world in which we inhabit. Is this because they have nothing to say or because we are not hearing and applying what they do say? This time will explore the Christian perspective in regards to our relationship with and to the rest of creation.
Speaker: Rev. Daven Oskvig, Senior Pastor at Kenmore United Methodist Church and Adjunct Professor in Canisius College's Department of Religious Studies.
<![endif]-->
About Rev. Oskvig: Originally from Rochester, NY, Daven began his ministry in Niagara Falls, NY before becoming pastor at Kenmore UMC. Daven is also an avid and accomplished distance runner who competes in races of marathon distance or longer (up to 100 miles) throughout the USA. He is sponsored by several companies for his running and, keeping with his concern for the environment, his races are mainly on trails.

Poster
<![endif]-->
By The Numbers...
In 2016, Community Missions provided:

• 11,104 nights of shelter
• 89,366 meals
• 6,744 individuals with clothing
• 2,295 care days in Youth Services
• 46,888 care days in Recovery Services
• 73,994 care days in Housing Services
• 182 opportunities for Faith Development