Featured News - Current News - Archived News - News Categories
Providing Courage ... One Bag at a Time
Girl Scout project benefits children in Community Missions' shelter
Thu, Jul 3rd 2014 09:20 am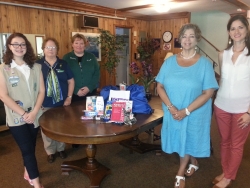 On Wednesday, July 2, Girl Scout Cadette Teresa Buchner presented Community Missions, Inc. with her "Bag of Courage" project, supply kits for every child who stays at the Missions Emergency Housing Shelter.
Present to accept the bags were Community Missions' Executive Director Robyn Krueger, and Teresa's community mentor, Community Missions' Event Manager Andrea Gray. Also in attendance were Lois Will, Program Manager for the Girl Scouts of Western New York and Aleta Zornek, Girl Scout Assistant Leader.
With the help of local businesses and donors, Teresa was able to collect enough items for 150 bags to give away over the next 2 years. Each bag contains items such as dictionaries, storybooks, hygiene products, and toys.
The presenting of the bags marks an end to Teresa's two year journey towards achieving her Silver Award for community service, the highest award a Girl Scout Cadette can earn, and involves identifying an issue of concern in the community, developing a project, and putting it to action.
The award allows the opportunity to make a lasting difference in the community, help those in need, and demonstrate the characteristics that make a great leader who is dedicated to making a difference.
"My hope is that I can help these kids," said Teresa Buchner. "So often they [children] come to Community Missions with nothing but the clothes on their back and this is something they can call their own."
By teaming up with Community Missions, Teresa is educating and raising awareness on homelessness. In 2013, Community Missions provided 1,315 nights of care to children.
Thank you to all those we donated to Teresa's project: Zonta Club of Niagara Falls, Univera Healthcare, Beta Sigma Phi International, Mary Ann Santangelo, NYS Alpha Chapter of Beta Sigma Phi, American Legion Auxiliary, Rotary Club of Central Niagara County, NY Laureate Psi Chapter, Niagara County Building Trades Council, Lock City Lodge No. 617, Chili's Restaurant, and the office of David R. Bonnevie, DDS.
By The Numbers...
In 2022, Community Missions provided:
• 13,647 nights of shelter
• 218,178 meals
• 1,425 individuals with clothing
• 2,886 care days in Youth Services
• 40,978 care days in Recovery Services
• 72,642 care days in Housing Services
• 410 reflections & resources for Faith Development