Featured News - Current News - Archived News - News Categories
It's Auction Time!
by Don Luce
Tue, Oct 28th 2014 04:00 pm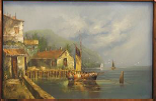 Community Missions will hold its Annual Antiques and Fine Arts Auction on November 9, 2014 at the First Presbyterian Church in Youngstown, NY. Viewing will begin at 12:15 and the Auction begins at 1:00 pm. There will be an International Sampling of Luncheon Hors d'oeuvres.
Auction items include an early American Primitive of a child, early American Samplers, African masks, Antique Clocks, Dolls, Persian Rugs, Paintings, JFK Memorabilia, Sports Memorabilia, a Lyon Electric Guitar, Viet Nam War Memorabilia, Porcelain (Staffordshire, Royal Copley, Lennox, Aynsley, Limoges, etc.), and many other items.
"Each year, we have one or more items that turn out to be rare finds," said Auction organizer, Don Luce. "For example, one year we had a signed Picasso print. Another year, we had a pair of Windsor Chairs that turned out to be from the 17th Century. We've also had pre-Columbian pots and rare Persian rugs."
There will be a large collection of over 100 purses this year including brands like Coach, Liz Clairborne, Gucci, etc. A New York City Advertizing Agency sent us several of these after they did photo shoots for women's magazines. Once a purse was used in a photo shoot, it could no longer be sold as new. So the Auction will have a $5 bin and a $10 bin for people to look through.
The Auction will support the Crisis Services Program of Community Missions. Last year, Community Missions provided 75,980 meals in its soup kitchen; sheltered 749 individuals, 94 of whom were children; and helped over 1,000 individuals with mental illness. In addition, the Mission has a home for people living with HIV/AIDS, support programs for at-risk youth, and programs for parolees.
Admission is $10/person or $15/couple to cover the cost of the Luncheon Hors d'oeuvres. The Auctioneer is Bob Deull. The Honorary Chair is Carol Rogers and Event Chairs are Michael Ryan, Ginger McNally, Mary Maj, Ron Zito, Mark Lynch and Tom Korn.
By The Numbers...
In 2022, Community Missions provided:
• 13,647 nights of shelter
• 218,178 meals
• 1,425 individuals with clothing
• 2,886 care days in Youth Services
• 40,978 care days in Recovery Services
• 72,642 care days in Housing Services
• 410 reflections & resources for Faith Development