Featured News - Current News - Archived News - News Categories
Community Missions Honors Volunteers & Supporters at 24th Annual Awards Brunch
by Christian Hoffman
Wed, May 25th 2016 04:00 pm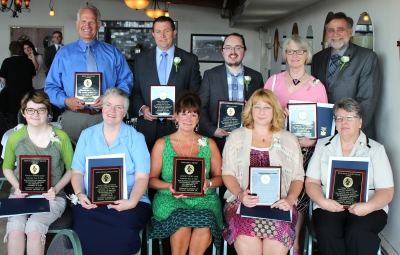 Each spring, Community Missions of Niagara Frontier, Inc. (CMI) takes an opportunity to honor the volunteers and supporters that make its work possible with its Annual Compassion in Action Awards Brunch. This year's 24th edition took place at the LaSalle Yacht Club in Niagara Falls on Wednesday afternoon.
The event honors the many volunteers that help the agency throughout the year, while also recognizing several award winners from different departments of the organization. In addition, Executive Director Robyn L. Krueger presents a Director's Award each year.
Approximately 120 attendees, including Robert Welch representing Senator Robert Ortt, Risky Sanabria representing Assemblyman John Ceretto, and City of Niagara Falls Mayor Paul Dyster, honored the following award winners Wednesday afternoon:
· Sr. Nora Sweeney, Mount St. Mary's Neighborhood Health Center - Mental Health Housing Services Award
· Ms. Robin Stroud, Niagara County Adult Protective Services - Mental Health Recovery Services Award
· Ms. Mary Len, LCSW - Youth Award
· Ms. Angela Barraclough - Crisis and Community Services Award
· First Presbyterian Church of Youngstown and Rev. Rex Stewart - Ministry and Community Partnerships Award
· Mr. Michael Ryan - Public Relations/Fundraising Award
· Mr. Josh Maloni, Niagara Frontier Publications - Public Relations/Media Award
· Mr. Andy Pascarella, Lawley Insurance - Finance Award
· LaSalle Yacht Club - Director's Award
Community Missions has provided the Niagara community with a wide range of vital services since 1925. In 2015, CMI provided more than 87,000 meals and 10,000 nights of care within its crisis services programs. Additional agency programs serve adults and youth with psychiatric disabilities, parolees, at-risk youth and other underserved populations in both residential and recovery-oriented settings.
By The Numbers...
In 2022, Community Missions provided:
• 13,647 nights of shelter
• 218,178 meals
• 1,425 individuals with clothing
• 2,886 care days in Youth Services
• 40,978 care days in Recovery Services
• 72,642 care days in Housing Services
• 410 reflections & resources for Faith Development