Featured News - Current News - Archived News - News Categories
20th Annual Sweetheart Dinner to be held February 10 - UPDATE
by Francesca Catanese
Fri, Jan 27th 2017 04:00 pm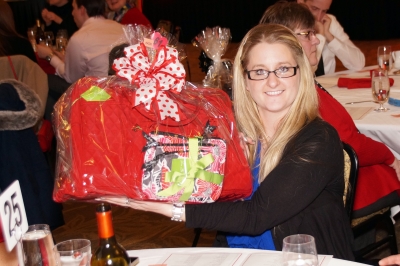 NIAGARA FALLS, N.Y. - More than 280 attendees are expected to celebrate Community Missions' 20th Annual Sweetheart Dinner on Friday, February 10 at the Conference and Events Center Niagara Falls.
The annual event benefits the agency's Crisis Services, including the Community Soup Kitchen, Food Pantry, Clothes Closet and Emergency Housing Shelter, and will feature more than 100 baskets, 50 gift cards, 15 silent auction items and numerous raffles.
The evening will begin at 6 p.m. with basket viewing and cocktail hour. During this time, guests may purchase basket, raffle, or 50/50 tickets, bid on silent auction items, visit the cash bar, and enjoy hors d'oeuvres and live music by Celtic Cross. Dinner and a short program will begin at 7 p.m., with the calling of winners to follow.
For those that wish to stay the night, Sheraton at the Falls is offering a special room rate that evening of $69 as the event's Hotel Partner.
As it is expected to be a busy night in downtown Niagara Falls, valet parking is included with the ticket. Those wishing to take advantage of valet parking should approach the event heading south on Third Street (from Niagara St.), as Old Falls Street will be closed off on Friday evening. It is encouraged that all attendees take advantage of the complimentary valet parking, or park at Sheraton at the Falls if staying the night.
Event chairs Michael Lewis, Ph. D. of the Kenmore-Town of Tonawanda School District and Dr. Melinda Scime of Tree of Life Yoga Studio will present the evening. A special thank you is also extended to the following sponsors: Calspan, Covanta, Niagara County Community College, Rainbow Dog Hotel & Day Care, Lawley Insurance, Alan Roscetti for Niagara Falls City Court Judge, Buffalo Alarm, Calamar, Independent Health, and Tree of Life Yoga Studio. Further thanks to all those throughout the community that have already provided donations to support the event.
Feel free to contact Events & Volunteer Manager Francesca Catanese at 716-285-3403 ext. 2225 with further questions.
By The Numbers...
In 2022, Community Missions provided:
• 13,647 nights of shelter
• 218,178 meals
• 1,425 individuals with clothing
• 2,886 care days in Youth Services
• 40,978 care days in Recovery Services
• 72,642 care days in Housing Services
• 410 reflections & resources for Faith Development