Featured News - Current News - Archived News - News Categories
Second Annual Project Connect Niagara Scheduled for July 26
by Christian Hoffman
Event provides wide range of services to individuals throughout Niagara County
Tue, Jul 18th 2017 12:00 pm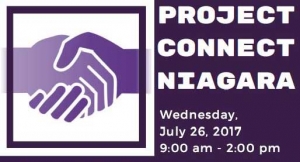 NIAGARA FALLS, N.Y. - Project Connect Niagara, an event designed to connect those in need with critical services in a "one-stop" venue, will take place on Wednesday, July 26 from 9 a.m. to 2 p.m. at Heart, Love, and Soul Food Pantry & Dining Room, located at 939 Ontario Ave. Niagara Falls, N.Y. 14305.
The event will feature more than 45 organizations, offering information, referrals and assistance to anyone who may be in need of help. Some of the resources available will include housing, employment, government benefits, Veterans' benefits, legal services, public benefits screenings, financial services and family services.
Also on-site will be healthcare providers offering physical exams, testing, vaccinations, dental care referrals, mental health screening and counseling, along with support and spiritual care.
"Last year's event was a great success, with 265 individuals attending and connecting with our providers," said Adam Bartoszek, committee chairperson. "Since last year, we have worked hard to put together an even better event this time around. We think that this will be a wonderful opportunity for even more people to receive the help that they need, and for us as agencies to serve our community."
The event is presented by the Niagara County Coalition for Services to the Homeless, in conjunction with the Annual Niagara County Poverty Conference. Sponsors of this year's event include Catholic Health, the Niagara Falls Teachers Community Service Fund, the Homeless Alliance of WNY, Kane Construction, Fidelis Care, the Mobile Safety Net Team, and United Way of Greater Niagara.
With a goal of making a positive impact on the community, the Project aims to form a partnership between community volunteers, city government, non-profits, and the private sector to provide this "one-stop shop" of health and human services for those in need throughout Niagara County.
For additional information about the event, please call 716.205.0287, visit www.niagara.edu/projectconnect or email projectconnectniagara@gmail.com. Transportation to the event is being provided by Aries Transportation from Lockport and sites around Niagara Falls.
###
Note: A Press Conference for the event will be held at Heart, Love & Soul Food Pantry & Dining Room (939 Ontario Ave. Niagara Falls, NY 14305) on Tuesday, July 25, 2017 at 10 a.m. Expected speakers at the Press Conference will include Sen. Robert Ortt, Assemblyman Angelo Morinello, Niagara Falls Mayor Paul Dyster, & Niagara University Executive Vice President Dr. Debra Colley.
By The Numbers...
In 2022, Community Missions provided:
• 13,647 nights of shelter
• 218,178 meals
• 1,425 individuals with clothing
• 2,886 care days in Youth Services
• 40,978 care days in Recovery Services
• 72,642 care days in Housing Services
• 410 reflections & resources for Faith Development