Featured News - Current News - Archived News - News Categories
Giving Larry A Voice
by Christian Hoffman
Social Service Agency Embraces Business Intelligence Innovation to Design Its Future
Thu, May 19th 2016 04:00 pm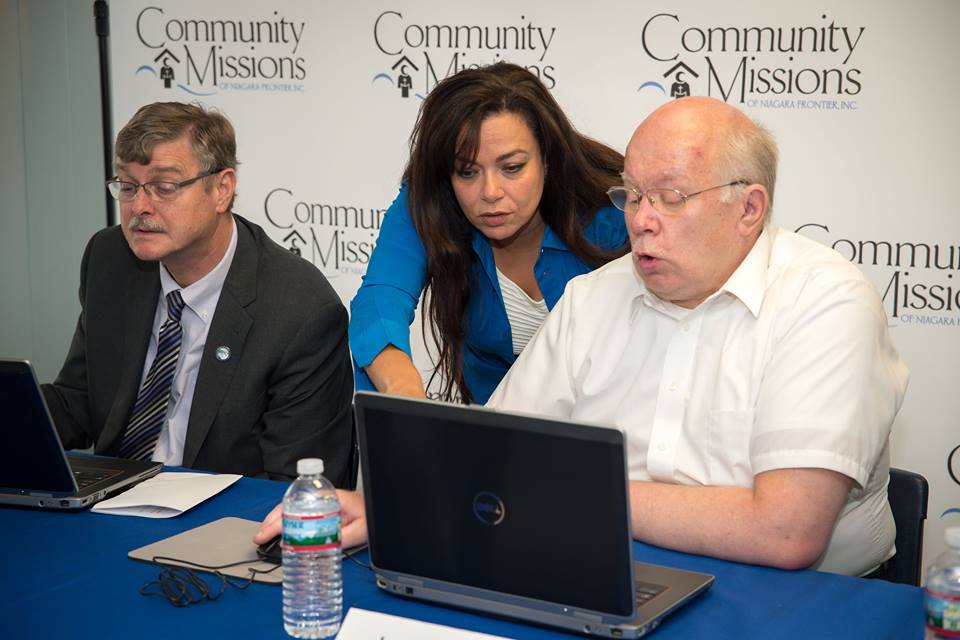 For Larry Diamond, services provided by Community Missions, Niagara County's largest private provider of basic human needs, have been instrumental in his recovery from a difficult time of his life.
"I hit rock bottom in August (2015), so I'm climbing my way back up," said Diamond. "Community Missions has been very helpful in helping me take bigger steps than I would've taken if I would have been on my own."
Community Missions celebrated its 90th anniversary of serving the less fortunate among its Niagara County neighbors just a few months ago. As it looks to its future, the agency has adopted a groundbreaking innovation aimed to include all of its stakeholders, including those that it serves.
"Getting input from everybody is a great idea," continued Diamond. "You're asking the people, not only that you're helping, but the people who run the place, what can we do better, and what can we do in the future. It's a great idea."
On Thursday, May 19 at 11 a.m., Community Missions hosted a press conference where Diamond sat down alongside City of Niagara Falls Mayor Paul A. Dyster to share their opinions regarding the Mission via SamePage. Developed by MED-VAR, LLC, SamePage is a smart decision-making platform that collects data and analyzes it to deliver instant insight. It displays results in a simple way that all users can understand. More than 200 stakeholders participated in the process.
"What impressed me from briefly looking at the results today is that there are some ideas that you would think would be popular that were not rated highly, which shows the importance of exercises like these," said Dyster. "Earlier today, I attended a conference regarding Data Analytics Across Disciplines. What they spoke about there is participatory democracy, giving everyone a say in the decision-making process. I found it very apropos that we are now here discussing how Community Missions is doing just that, giving consumers a voice in its future."
"Community Missions has led the way to an evidence-based future by adopting business intelligence," said Dr. Hanan Ismail, CEO of MED-VAR, a human centered-service design company based in NYC. "Everyone is collecting data now, but knowing what to do with it is what makes any data useful. That is what SamePage has tackled. Samepage tells you what the data means, and with our design-thinking approach, we were able to make it accessible to social organizations as well."
"It has been exciting to engage a full complement of our stakeholders throughout this process, and to review the results in real-time," said Robyn L. Krueger, Executive Director of Community Missions. "A problem that every non-profit organization faces is how to quantify the impact and quality of their provided services, especially those of us in the human services not-for-profit sector. Data collection of the somewhat intangible is necessary to determine the ongoing progress of the agency. Engaging in this process gives everyone a voice, which is meaningful."
More than 25 community service partners participated in the SamePage process, including Tom Lowe, Director of ReNU Niagara. His office, an extension of Niagara University, works in partnership with local community-based organizations to build capacity and is a frequent collaborator with the Mission.
"Collaboration and transparency are ideas that are often discussed; however, Community Missions has put these concepts into action," said Lowe. "It is admirable and refreshing to see an organization embrace the community as it looks to determine its future."
Considered Niagara County's largest private provider of basic human needs and also of mental health services, Community Missions serves approximately 4,000 individuals within its 19 program service areas annually. For further information please visit www.communitymissions.org.
-For more information: www.med-var.com, for interviews with Dr. Ismail: Media@med-var.com.
By The Numbers...
In 2021, Community Missions provided:
• 10,557 nights of shelter
• 174,497 meals
• 1,422 individuals with clothing
• 2,353 care days in Youth Services
• 45,497 care days in Recovery Services
• 72,658 care days in Housing Services
• 526 reflections & resources for Faith Development