Featured News - Current News - Archived News - News Categories
Community Missions' Ducks Able to Swim Again
by Christian Hoffman
Recently Canceled Fundraising Event Given New Life
Tue, Jul 12th 2016 08:00 am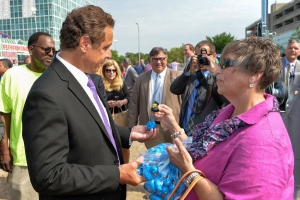 NIAGARA FALLS, N.Y. - After announcing last week that the event would be canceled due to New York State gaming laws, Community Missions' Annual Duck Race at the Canal Fest of the Tonawandas will now go on as originally planned, following expedited approvals laid out by Gov. Andrew Cuomo's office Tuesday.
Community Missions has operated the race for eight years at Canal Fest, and less than two weeks ago learned that such games of chance were considered illegal on state property, such as the Erie Canal. Upon learning of this little-known and rarely-enforced ruling, the Mission canceled its upcoming event, which typically raises between $6,000 - $8,000 annually to support its Emergency Housing Shelter, Community Kitchen and Food Pantry.
On Tuesday, Gov. Cuomo's office laid out a number of steps that any organization can take in order to conduct such an event. They involve clearances from the local municipality (City of North Tonawanda in this case) and the New York State Gaming Commission.
"Each year, Community Missions' charitable duck race raises thousands of dollars to support the organization's important work for the city's most vulnerable populations," said Governor Cuomo. "After discussions with the New York State Gaming Commission, we've determined a lawful pathway for this popular event to take place on the Erie Canal this year and in the years ahead. The Commission has reached out to city officials and Community Missions to ensure the proper steps are taken so that the raffle may be legally conducted."
The race, to be held on Saturday, July 23 at 3 p.m., involves dropping approximately 1,500 numbered plastic ducks into the Erie Canal. The first several ducks to cross the finish line win prizes for their sponsors, including a top prize of $750 this year.
"We are thrilled that Governor Cuomo reached out to help us cut through the red tape," said Robyn Krueger, Executive Director of Community Missions Of Niagara Frontier, Inc. "By expediting the application process to use a state waterway, the duck race can commence on Saturday, July 23 at Canal Fest, which helps support our mission of serving individuals and families in need. We've provided Compassion in Action to those in need in Niagara County since 1925. With Governor Cuomo's help, our wide range of services will continue."
Ducks may be purchased in person at Community Missions' tent on Renaissance Bridge (corner of Webster St. and Sweeney St.) throughout the week-long Canal Fest. A single duck costs $5, a "Quack Pack" of six ducks costs $25, a "Quackers Dozen" of 13 ducks costs $50, while a "Flock" of 30 ducks costs $100. This year's sponsors include Fallon Health, J.A. Brundage and LocalEdge, while other sponsorship opportunities do still exist.
###
About Community Missions
Since its founding in 1925, Community Missions has provided a unique blend of referral, crisis, community support, and residential services for youth and adults. In 2015, the Mission provided over 86,000 meals and over 10,000 nights of care to neglected or abused children and homeless adults. Additional agency programs serve adults and youth with psychiatric disabilities, parolees, at-risk youth and other underserved populations in both residential and recovery-oriented settings. For more information, please visit www.communitymissions.org.
By The Numbers...
In 2022, Community Missions provided:
• 13,647 nights of shelter
• 218,178 meals
• 1,425 individuals with clothing
• 2,886 care days in Youth Services
• 40,978 care days in Recovery Services
• 72,642 care days in Housing Services
• 410 reflections & resources for Faith Development