Featured News - Current News - Archived News - News Categories
Gardens of Compassion Reaches Out with Community Events
by Mark Breese
Tue, Jul 19th 2016 02:00 pm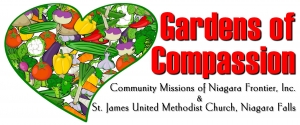 NIAGARA FALLS, N.Y. - Community Missions of Niagara Frontier, Inc. (CMI) and St. James United Methodist Church in Niagara Falls, as part of their joint Gardens of Compassion project, will present three special community events on July 27th, August 24th, and August 31st. All three events are to take place at St. James United Methodist Church, 4661 Porter Rd, Niagara Falls, NY 14305, from 7-8 p.m., are free and open to the public.

"We really want our gardening initiative to be one that gives back to as many people in the community as possible," said Rev. Mark Breese, Agency Minister and Director of Ministry and Community Partnerships at CMI. "These events do that by bringing education, creating conversation, and allowing people to just have some fun together as a community."

The July 27th event is titled "Food is Our Medicine", presented by Ken Parker. This presentation will explore food, farming, indigenous plants, health, and the idea of Caring for Creation from a Native American perspective. Ken Parker is Native Plant Consultant and Project Director of the Haundenosaunee Community Food is our Medicine Project at the Seneca Nation of Indians (SNI).

On Aug. 24th,there will be a musical performance called "Concert By the Gardens of Compassion" and features the local band "Wing and a Prayer." Led by Kevin and Lynne Jacob, Wing and a Prayer has performed at local churches and community events in WNY for the past 21 years. They present a mix of original music along with Old Gospel, Rock, and Folk standards. Band members also includes Rick Strusienski and Gordy Goodearl.

The Aug. 31st presentation titled "Is Christianity Good News for the Environment?" will be given by Rev. Daven Oskvig, Senior Pastor at Kenmore United Methodist Church and Adjunct Professor at Canisius College's Department of Religious Studies. Rev. Oskvig's presentation looks at society's increasing concern for the environment and how our many faith traditions provide a moral compass for life and living, yet often fail to respond to the responsibility to care for creation. The presentation will ask if this is because Christian tradition has nothing say on environmental matters, or because we are not hearing and applying what the tradition does say.

The presentation on July 27th and August 31st will take place in the church sanctuary. The concert on August 24th will be held outdoors, adjacent to the gardens. If there is inclement weather, the concert will take place in the church.

The Gardens of Compassion initiative is a unique community garden created in partnership between Community Missions and St. James and has the three basic goals of producing food for those in need, addressing the stigma associated with mental illness, and learning about our responsibility to care for creation.

"In many ways, the Gardens of Compassion is all about creating community by holding up the simple fact that we are all one human family who all inhabit our beautiful and amazing planet together. That sounds very grand, but it's actually gets down to very basic stuff," says Rev. Mark Breese, Agency Minister and Director of Ministry and Community Partnerships at CMI. "Being part of one family means that we have a responsibility to care for each other in times of need, and that we all have a responsibility to care for our one home, the Earth. Even though both responsibilities are large, if all of us make an effort even in small ways, like at a sustainable community garden, it adds up to make a difference that matters."

In addition to these evening community events, the Gardens of Compassion also provides programing on many of its regular group gardening days, which are Wednesdays from 3:30-4:30 p.m. Already this year, Cornell Cooperative Extension has provided nutrition and healthy cooking presentations, local musician Brian Beaudry gave a 'Music by the Garden' performance while volunteers cared for the gardens. There are also presentations and discussions around the topic of Caring for Creation such as one recently led by Rabbi Ellen Franke of Temple Beth El, in Niagara Falls, NY.

"It's our partnerships that make the Gardens of Compassion possible and unique," says Rev. Matthew Kofhal, Pastor of St. James United Methodist Church. "These partnerships and the gardens work perfectly with our church's goal of being a space for the whole community."
Many partners have come together with Community Missions and St. James to help to get the initiative started or to sustain it over the past four years: Cornell Cooperative Extension, Goodman's Farmer's Market, United Methodist Women, and Brighton Community Church provided assistance to get the initiative started. For the past two years funding from a One Great Hour of Sharing Development Grant from the American Baptist Home Mission Society has supported the initiative. In 2016 Greenprint Niagara WNY also became a partner supplying many seedlings and other support, and The Service Collaborative of WNY provided funding for materials that helped expand the gardens with four new 4ft by 8ft raised beds (for a total of 16 beds) and also helped recruit volunteers through their VolunterWNY.org online platform.

For more information about the Gardens of Compassion Initiative and the special events this summer, individuals visit the Community Missions website, www.CommunityMissions.org/gardens or contact Rev. Mark Breese at 716-258-3403 ext 2259.

By The Numbers...
In 2022, Community Missions provided:
• 13,647 nights of shelter
• 218,178 meals
• 1,425 individuals with clothing
• 2,886 care days in Youth Services
• 40,978 care days in Recovery Services
• 72,642 care days in Housing Services
• 410 reflections & resources for Faith Development