Featured News - Current News - Archived News - News Categories
Deposits For Food Celebrates Earth Day with Donation
by Christian Hoffman
Fri, Apr 23rd 2021 04:00 pm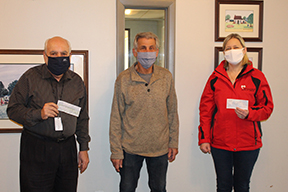 In honor of Earth Day 2021, Deposits for Food (D4F) presented checks totaling $2,000 to Niagara Falls food pantries Heart, Love, and Soul and Community Missions. The donations were the result of returnable container and scrap metal collections over the past six weeks. Angelo Sarkees, of Lewiston, founder and administrator of D4F, presented the checks on April 22nd. To date, D4F has collected 900,000 containers and 200 tons of scrap, raising a remarkable $90,000 for four Niagara County pantries. Without this collection, a large majority of the collected items likely would have ended up in a landfill, making the Earth Day celebration all the more relevant.
Sarkees would like to thank his donors, including Collision Enterprises, Brickyard/BBC, Carmelo's Coat of Arms, DiMino's Tops Lewiston, Guido's Upholstering, One Niagara, Supermarket Liquors, Somewhere Bar, Ontario House Youngstown (the Jug), Gather/Gallo Lewiston, Griffon Pub, and Mars Heating. He would also like to acknowledge the numerous family and friends who donate empty containers and scrap. Special kudos also go to Doug Adamson and the crew at Porter Empty Return Center in Ransomville, where the returns are processed.
Sarkees would like to encourage everyone to support the pantries and shelters in WNY, especially during these times. Finally, a heartfelt thanks to the pantries/shelters and their staff, for their dedication and efforts year round. Sarkees can be reached by e-mail at sarkeesa@yahoo.com for anyone looking to contribute to his future collections.
By The Numbers...
In 2022, Community Missions provided:
• 13,647 nights of shelter
• 218,178 meals
• 1,425 individuals with clothing
• 2,886 care days in Youth Services
• 40,978 care days in Recovery Services
• 72,642 care days in Housing Services
• 410 reflections & resources for Faith Development