Featured News - Current News - Archived News - News Categories
2022 Annual Report Now Available!
by Christian Hoffman
Wed, Oct 11th 2023 04:00 pm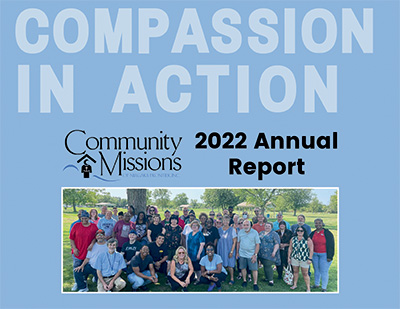 With the help of our community, we accomplished a lot in 2022! If you're interested in learning more about it, check out our 2022 Annual Report, linked here!
Some highlights include a message from Robyn L. Krueger, our President & CEO, a summary of services and statistics from each of our divisions, financial information, noteworthy news events, and a thank you to our donors, supporters, and volunteers.
You can also check out all of our recent annual reports here.
By The Numbers...
In 2022, Community Missions provided:
• 13,647 nights of shelter
• 218,178 meals
• 1,425 individuals with clothing
• 2,886 care days in Youth Services
• 40,978 care days in Recovery Services
• 72,642 care days in Housing Services
• 410 reflections & resources for Faith Development