News Categories
Featured News - Current News - Archived News - News Categories
Foundation Support
Viewing articles 1 to 5 of 5 total.
Thu, Dec 18th 2014 04:00 pm
Community Missions of Niagara Frontier, Inc. (CMI) in Niagara Falls, N.Y. recently received a $5,000 grant from the One Great Hour of Sharing (OGHS) Domestic Emergency Food and Shelter fund, from the World Relief Committee of the American Baptist Churches, USA (ABCUSA) and facilitated by the American Baptist Home Mission Societies (ABHMS). The grant allows Community Missions to maintain Faith Services components available across its many services through 2014.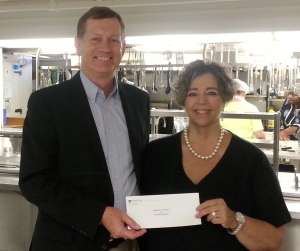 Tue, Jun 10th 2014 04:00 pm
NIAGARA FALLS, N.Y. - In 2013, Community Missions provided 75,980 meals to those in need in Niagara County, an increase of over 5,000 meals from 2012. With demand again increasing in 2014, the Patrick P. Lee Foundation recently awarded a $30,000 grant, covering a year's worth of food purchases within the Mission's Community Soup Kitchen.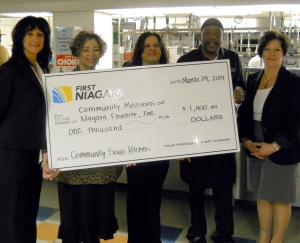 Mon, Mar 24th 2014 03:00 pm
The First Niagara Foundation and Community Missions of Niagara Frontier, Inc. are partnering to provide food for local families in need through the Community Soup Kitchen. The Kitchen opens its doors six days a week for a well-rounded, nutritious lunch.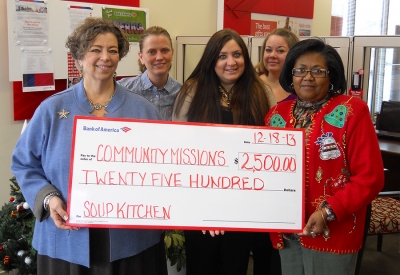 Wed, Dec 18th 2013 03:00 pm
The Community Soup Kitchen at Community Missions received funds from the Bank of America Foundation on Wednesday, Dec. 18th. The check was presented by Niagara Falls Pine Ave. Branch Manager Ardell Dolson to Community Missions' Executive Director Robyn L. Krueger. Also on hand were Bank of America employees Jaimie Connor, Sarah Daniels and Rachel Tufillaro.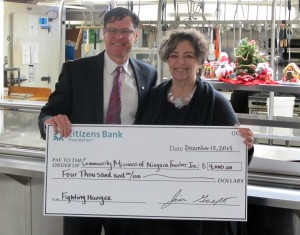 Fri, Dec 13th 2013 05:10 pm
The Community Soup Kitchen program at Community Missions recently received a $4,000 check from the Citizens Bank Foundation in support of its hunger relief efforts. The check was presented to Robyn L. Krueger, Executive Director of Community Missions on Thursday, Dec. 12 by Citizens Bank Senior Vice President Stephen Scello.
By The Numbers...
In 2022, Community Missions provided:
• 13,647 nights of shelter
• 218,178 meals
• 1,425 individuals with clothing
• 2,886 care days in Youth Services
• 40,978 care days in Recovery Services
• 72,642 care days in Housing Services
• 410 reflections & resources for Faith Development