Gratitude Campaign Letter to the Editor Follow-Up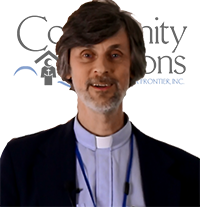 On April 26, the Niagara Gazette ran a Letter to the Editor from Sister Beth Brosmer, OSF, a Community Missions' Board Member. In response to her idea of launching a "Gratitude Campaign", Rev. Mark Breese published the following Letter to the Editor, seen below...
Compassion In Action is more than Community Missions' slogan -- it is a guiding principle for all our services. We believe acts of compassion don't have to be grand; small acts of kindness can change the world around us.
Recently, the Niagara Gazette published a Letter to the Editor by Sister Beth Brosmer. She is a dear friend of Community Missions, serving on our Board of Directors and Community & Religious Services Committee. As we cope with all going on around us, her words inspire us to express appreciation for those often overlooked in our community.
In response, we are launching a "Gratitude Campaign." Periodically via social media, we will suggest groups that can be thanked for their work in our community. However, we hope you will find your own ways to show appreciation to those around us.
We will begin by encouraging gratitude for our postal carriers and mail workers. Over the past two years, when many experienced isolation, letter carriers may have been the only contact many had. They brought packages and letters from friends and relatives, connecting us all when we most needed it.
We will formally thank these unsung heroes in a small event on Thursday, May 12. However, we encourage you to begin your own "Gratitude Campaign" now, expressing appreciation for others in some small, meaningful way. Please consider others to thank in your everyday routine. Your actions may start a ripple effect of kindness in someone's life, perhaps even in your own!
Rev. Mark Breese, Community Missions
1570 Buffalo Ave., Niagara Falls
comments powered by Disqus
By The Numbers...
In 2022, Community Missions provided:
• 13,647 nights of shelter
• 218,178 meals
• 1,425 individuals with clothing
• 2,886 care days in Youth Services
• 40,978 care days in Recovery Services
• 72,642 care days in Housing Services
• 410 reflections & resources for Faith Development