Featured News - Current News - Archived News - News Categories
Citizens Bank Foundation Provides Support for Community Kitchen
by Christian Hoffman
Fri, Dec 13th 2013 05:10 pm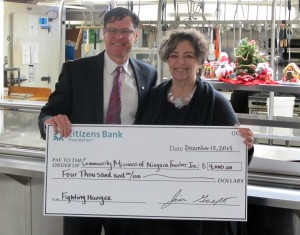 The Community Soup Kitchen program at Community Missions recently received a $4,000 check from the Citizens Bank Foundation in support of its hunger relief efforts. The check was presented to Robyn L. Krueger, Executive Director of Community Missions on Thursday, Dec. 12 by Citizens Bank Senior Vice President Stephen Scello.
Open six days each week, the Kitchen serves an average of 125 individuals each day, and provides more than just a warm meal to those in need. Guests dining in the Kitchen are able to take home loaves of bread thanks to local bakeries and learn about new programs in the area that come in to raise awareness. In addition, guests can also visit the Clothes Closet to select clothes, accessories and household items that have been donated.
"Many individuals and families are facing challenging times, and their budgets are stretched," said James P. Gaspo, president of Citizens Bank, New York. "By supporting Community Missions of Niagara Frontier, we can ensure that our neighbors have a place to go when they need a nutritious meal and support from their community."
The support from the Citizens Bank Foundation will go directly to purchase food for the Kitchen. Already in 2013, the agency has seen a 20% increase in its Crisis Housing services, while the winter months are typically the busiest for the Mission's Crisis Services.
"We are so thankful for the support of the Citizens Bank Foundation," said Krueger. "The Community Soup Kitchen helps hundreds of people each week, and we literally could not do so without the generosity of organizations like the Citizens Bank Foundation. This gift comes at a wonderful time for the agency, as the coming weeks will be the busiest of the year across our Crisis Service programs."
About the Citizens Bank Foundation
Citizens Bank Foundation is a subsidiary of the Citizens Charitable Foundation, which is a charitable contributions vehicle of RBS Citizens Financial Group, Inc., RBS Citizens, N.A. and Citizens Bank of Pennsylvania. The foundation's support is focused on human services, affordable housing and economic development. RBSCFG's website is citizensbank.com
About Community Missions
In 2012, CMI provided over 70,000 meals and over 9,000 nights of care within its crisis services programs. Additional agency programs serve adults and youth with psychiatric disabilities, parolees, at-risk youth and other underserved populations in both residential and recovery-oriented settings. For more information on the services and programs provided by Community Missions, please visit www.communitymissions.org or connect via Facebook or Twitter.
By The Numbers...
In 2021, Community Missions provided:
• 10,557 nights of shelter
• 174,497 meals
• 1,422 individuals with clothing
• 2,353 care days in Youth Services
• 45,497 care days in Recovery Services
• 72,658 care days in Housing Services
• 526 reflections & resources for Faith Development