Featured News - Current News - Archived News - News Categories
Bank of America Foundation Provides Funding for Kitchen
by Christian Hoffman
Wed, Dec 18th 2013 03:00 pm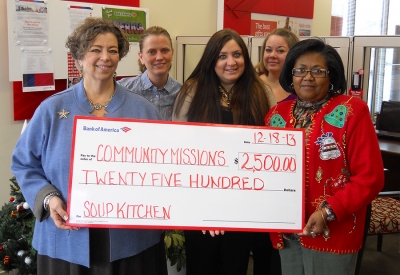 The Community Soup Kitchen at Community Missions received funds from the Bank of America Foundation on Wednesday, Dec. 18th. The check was presented by Niagara Falls Pine Ave. Branch Manager Ardell Dolson to Community Missions' Executive Director Robyn L. Krueger. Also on hand were Bank of America employees Jaimie Connor, Sarah Daniels and Rachel Tufillaro.
The Kitchen provides hundreds of meals each week to those in need in Niagara County. The support of such businesses, organizations and individuals is vital to the Mission's ongoing services. In 2012 alone, the agency provided over 70,000 meals, and will surpass that number in 2013!
"We are so thankful for this generous gift from the Bank of America Foundation," said Christian Hoffman, Communications & Development Manager for Community Missions. "This support comes at a vital time of year for the agency, as the holiday season is typically the busiest of the year for our Crisis Services."
By The Numbers...
In 2022, Community Missions provided:
• 13,647 nights of shelter
• 218,178 meals
• 1,425 individuals with clothing
• 2,886 care days in Youth Services
• 40,978 care days in Recovery Services
• 72,642 care days in Housing Services
• 410 reflections & resources for Faith Development