Featured News - Current News - Archived News - News Categories
Ministry & Community Partnerships Busy in 2013
by Christian Hoffman
Thu, Mar 20th 2014 03:00 pm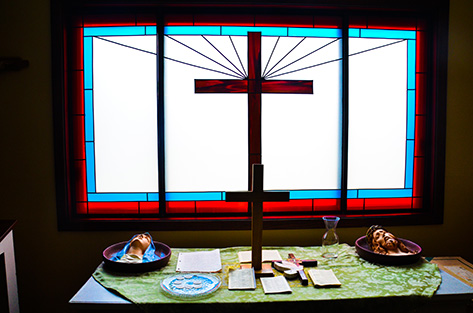 In 2013, Community Missions' Ministry & Community Partnerships offered 118 opportunities for faith and spiritual development to those it serves, and totaled 83 community partners, according to information released by the agency Thursday. The total equates to offering an activity or opportunity for engagement once every three days to Niagara's most vulnerable.
Founded in 1925, Community Missions administers 18 programs, providing Niagara County with a wide range of services, including those focused on crisis, community, youth, and those living with mental illnesses. The agency provided over 75,000 meals and 10,000 nights of shelter last year, while offering mental health services to hundreds of individuals.
"We have worked hard over the past few years to provide new and often innovative voluntary opportunities for those we serve to explore, develop and strengthen their faith and spiritual wellbeing," said Rev. Mark Breese, Agency Minister and Director of Ministry and Community Partnerships at Community Missions. "It is so important for those struggling with poverty, homelessness, and mental illness to have hope. The religious, faith, and spiritual development opportunities we offer are a key part of how Community Missions serves the whole person."
The mission of the Ministry and Community Partnerships is to offer opportunities and resources for religious, spiritual, and faith development to those we serve, our staff, and opportunities for faith based community partnerships. Among the highlights of the program in 2013 were:
Weekly Chapel services offered at the agency's main building that houses many of the Crisis & Community Services, including the Community Soup Kitchen, Homeless Shelter, etc.
The Gardens of Compassion project that was conducted during the summer months in conjunction with St. James United Methodist Church in Niagara Falls and the Cornell Cooperative Extension of Niagara County. This program offered an opportunity for adults participating in Community Missions' programs, specifically those with a mental illness, to grow and eat fresh foods from their own garden, while educating the community to break down the stigma associated with mental illness.
Fellowship meetings at Community Missions' mental health program sites to engage discussion and education regarding faith, spiritual development, and how to they can help individuals with growing their overall wellness.
The Sunday Cabaret program, a monthly engagement of local churches that would provide a meal and entertainment to those involved with Community Missions' services.
A total of 38 groups that conducted activities with the Mission throughout the year, including youth groups coming to volunteer their time for up to a week, churches participating in the Sunday Cabaret, and groups conducting clothing, food, or fundraising drives to support the Mission.
Along with these opportunities, the Mission's minister, Rev. Breese, engages in one on one conversation and offers a pastoral presence for any consumers of CMI services that request it. In 2013, Rev. Breese documented 247 such contacts, described as "significant pastoral contacts".
A majority of the funds necessary to operate the Crisis & Community Services division come directly from individual and corporate donations, grant support from foundations, and fundraising events. Those interested in learning more about the agency, or donating to its mission, are encouraged to visit www.CommunityMissions.org, or calling 716-285-3403.
About Community Missions
In 2013, CMI provided over 75,000 meals and nearly 11,000 nights of care within its crisis services programs. Additional agency programs serve adults and youth with psychiatric disabilities, parolees, at-risk youth and other underserved populations in both residential and recovery-oriented settings. For more information on the services and programs provided by Community Missions, please visit www.communitymissions.org or connect via Facebook or Twitter.
By The Numbers...
In 2022, Community Missions provided:
• 13,647 nights of shelter
• 218,178 meals
• 1,425 individuals with clothing
• 2,886 care days in Youth Services
• 40,978 care days in Recovery Services
• 72,642 care days in Housing Services
• 410 reflections & resources for Faith Development