Featured News - Current News - Archived News - News Categories
First Niagara Provides Funding for Soup Kitchen
by Christian Hoffman
Mon, Mar 24th 2014 03:00 pm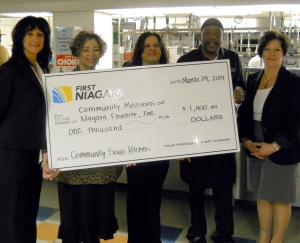 The First Niagara Foundation and Community Missions of Niagara Frontier, Inc. are partnering to provide food for local families in need through the Community Soup Kitchen. The Kitchen opens its doors six days a week for a well-rounded, nutritious lunch.
Community Missions provides a unique blend of referral, crisis, community support and residential services for young people and adults. The First Niagara Foundation is donating $1,000 to the organization.
"First Niagara is committed to making our community a better place," said Elizabeth Gurney, Executive Director of the First Niagara Foundation. "We are proud to support Community Missions and the work they do every day to make a lasting impact on the lives of those seeking their assistance."
"We are so thankful for organizations like the First Niagara Foundation that see a community need, and work to address it," said Robyn L. Krueger, Executive Director of Community Missions. "This support will directly fund the work of our Community Soup Kitchen, which provided more than 27,000 meals in 2013."
About The First Niagara Foundation
First Niagara Foundation is a not for profit corporation founded in 1998. The Foundation is committed to supporting organizations in the communities in which we live and work with specific focus on youth and education, community development and neighborhood revitalization. In 2012 the Foundation contributed more than $10 million in charitable grants to community partners. For more information, visit www.firstniagara.com/community.
About First Niagara
First Niagara, through its wholly owned subsidiary, First Niagara Bank, N.A., is a multi-state community-oriented bank with approximately 420 branches, $38 billion in assets, $27 billion in deposits, and approximately 5,800 employees providing financial services to individuals, families and businesses across Upstate New York, Pennsylvania, Connecticut and Massachusetts. For more information, visit www.firstniagara.com. For more information, visit www.firstniagara.com.
About Community Missions
Community Missions has provided the Niagara community with a wide range of vital services since 1925. In 2013, CMI provided over 75,000 meals and nearly 11,000 nights of care within its crisis services programs. Additional agency programs serve adults and youth with psychiatric disabilities, parolees, at-risk youth and other underserved populations in both residential and recovery-oriented settings. For more information, please visit www.communitymissions.org.
By The Numbers...
In 2022, Community Missions provided:
• 13,647 nights of shelter
• 218,178 meals
• 1,425 individuals with clothing
• 2,886 care days in Youth Services
• 40,978 care days in Recovery Services
• 72,642 care days in Housing Services
• 410 reflections & resources for Faith Development