Featured News - Current News - Archived News - News Categories
Patrick P. Lee Foundation Provides Support to Soup Kitchen
by Christian Hoffman
Tue, Jun 10th 2014 04:00 pm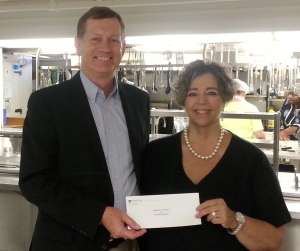 NIAGARA FALLS, N.Y. - In 2013, Community Missions provided 75,980 meals to those in need in Niagara County, an increase of over 5,000 meals from 2012. With demand again increasing in 2014, the Patrick P. Lee Foundation recently awarded a $30,000 grant, covering a year's worth of food purchases within the Mission's Community Soup Kitchen.

"We were thrilled to learn of this award from the Patrick P. Lee Foundation," said Robyn L. Krueger, Executive Director of Community Missions. "The agency takes great pride in providing fresh, nutritious meals to all those that come to us throughout the year. This support ensures these vital programs will continue to address these needs. We are grateful that the Patrick P. Lee Foundation recognized this need, and responded in such a proactive manner."

Community Missions initially submitted a request for $10,000 from the Foundation to purchase approximately four months' worth of the staples of a nutritious meal in the Community Soup Kitchen, including fresh produce, meats and dairy. The Foundation, however, committed $30,000 to the program upon learning more about the agency and its programs, funding the entire year's worth of purchases.

"The Patrick P. Lee Foundation is anxious to assist Community Missions of Niagara Frontier with this $30,000 grant. We are excited to partner with such a passionate organization helping the people of Niagara County. There is a great deal of need in the community and the Patrick P. Lee Foundation is happy to help," commented Mark O'Donnell, Executive Director of the Patrick P. Lee Foundation.

Community Missions provides meals to the community through three separate programs. The Community Soup Kitchen provided over 27,000 meals last year, while the Food Pantry program provided an additional 29,000+ meals in 2013. The Mission also provided more than 19,000 meals to individuals staying within the agency's Crisis Housing services a year ago.

As much as 98% of the funds necessary to operate the Crisis Services division come directly from individual and corporate donations, grant support from foundations, and fundraising events. Those interested in learning more about the agency, or donating to its mission, are encouraged to visit www.CommunityMissions.org, or calling 716-285-3403.

About Community Missions
Community Missions has provided the Niagara community with a wide range of vital services since 1925. In 2013, CMI provided over 75,000 meals and nearly 11,000 nights of care within its crisis services programs. Additional agency programs serve adults and youth with psychiatric disabilities, parolees, at-risk youth and other underserved populations in both residential and recovery-oriented settings. For more information, please visit www.CommunityMissions.org.

About the Patrick P. Lee Foundation
Located in Key Largo, Fla. and Amherst, N.Y, the Patrick P. Lee Foundation is a charitable organization dedicated to providing support to non-profit organizations that empower families and communities with the resources needed to create positive change in areas of medical care & research, education, behavioral health and human & community services in parts of Miami/Dade and Monroe Counties in South Florida and Erie & Niagara Counties in New York. For more information, visit www.patrickpleefoundation.org.


By The Numbers...
In 2022, Community Missions provided:
• 13,647 nights of shelter
• 218,178 meals
• 1,425 individuals with clothing
• 2,886 care days in Youth Services
• 40,978 care days in Recovery Services
• 72,642 care days in Housing Services
• 410 reflections & resources for Faith Development