Featured News - Current News - Archived News - News Categories
Delaware North Presents $20,000 in Support of Community Missions' Programs
by Christian Hoffman
Fri, Oct 14th 2022 11:00 am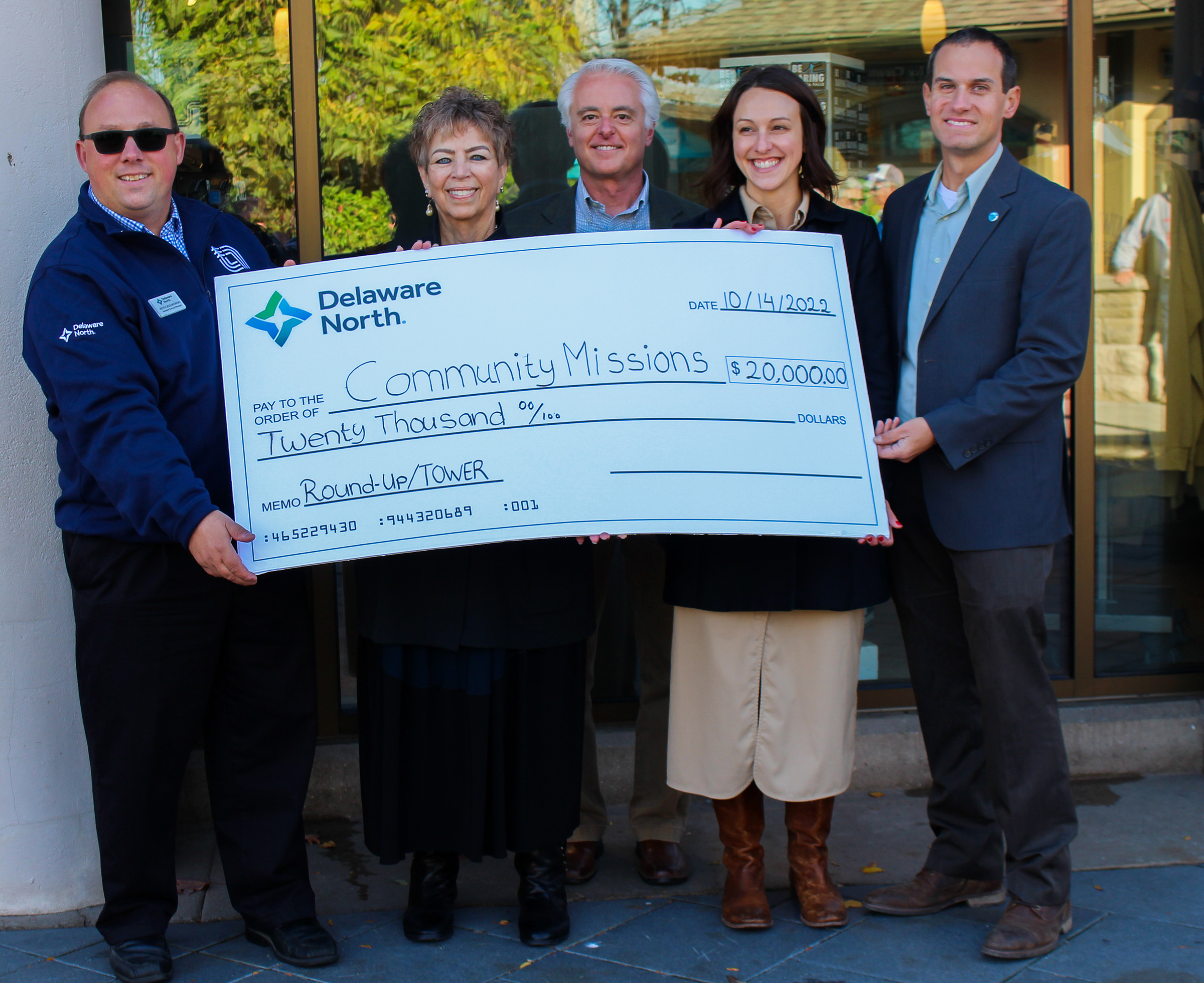 NIAGARA FALLS, N.Y. – Delaware North presented Community Missions with a pair of checks totaling $20,000 at a ceremony at Niagara Falls State Park this morning.
The donation includes support from Delaware North of Community Missions' TOWER workforce development program and proceeds from a "Round Up for the Region" campaign conducted within Niagara Falls State Park this summer.
"We so appreciate Delaware North for all the ways they partner with us to help our neighbors," said Robyn L. Krueger, Community Missions' president & CEO. "We often talk about how we cannot meet the needs of all those who come to us without community support. Delaware North continues to put its commitment into action by supporting Community Missions through these efforts."
Delaware North has contributed $10,000 to support the TOWER program, which provides training, real-world work experience, and tools for success to returning citizens. The program builds their employment history, resumes, and network. The donated funds will support participants' culinary training at the Niagara Falls Culinary Institute.
"Delaware North is always looking to contribute to our hometown in meaningful ways, and gladly supports Community Missions and their wonderful work in the community," said Katie Gorman, director, corporate social responsibility and strategic initiatives. "Between the round up campaign and the TOWER program, we know the organization is making a difference in Niagara Falls and beyond."
Throughout the tourist season, the Delaware North team at Niagara Falls State Park, under the leadership of General Manager Michael Barnes, asked customers to round up purchases at retail locations within the park to benefit Community Missions. In its second year conducting the campaign, the initiative raised $10,000 for the organization's Crisis & Community Services, which include an emergency housing shelter, a food pantry, and a soup kitchen.
"New York State Parks at Niagara Falls thanks Delaware North for this initiative and we thank Community Missions for all the work they do to make Niagara Falls a better place," said Angela P. Berti, New York State Parks spokesperson.
About Community Missions
Since its founding in 1925, Community Missions has provided a unique blend of referral, crisis, community support, and residential services for youth and adults. Last year, Community Missions provided over 174,000 meals and over 10,000 nights of care to its Niagara neighbors. Additional agency programs serve adults and youth with mental health concerns, individuals returning from incarceration, at-risk youth, and other underserved populations in both residential and recovery-oriented settings. For more information, please visit www.communitymissions.org.
About Delaware North
Delaware North is a global leader in the hospitality and entertainment industry. The company annually serves more than a half-billion guests across four continents, including at high-profile sports venues, airports, national and state parks, restaurants, resorts, hotels and casinos. Building on more than a century of enduring partnerships and a commitment to local communities and sustainability, Delaware North's vision is to delight guests by creating the world's best experiences today while reimagining tomorrow. Learn more at www.DelawareNorth.com and connect with us on Facebook, Twitter, Instagram and LinkedIn.
About New York State Office of Parks, Recreation and Historic Preservation
The New York State Office of Parks, Recreation and Historic Preservation oversees more than 250 parks, historic sites, recreational trails, golf courses, boat launches and more, which are visited by more than 78 million people annually. For more information on any of these recreation areas, visit www.parks.ny.gov, download the free NY State Parks Explorer mobile app or call 518.474.0456. Also, connect on Facebook, Instagram and Twitter.
By The Numbers...
In 2022, Community Missions provided:
• 13,647 nights of shelter
• 218,178 meals
• 1,425 individuals with clothing
• 2,886 care days in Youth Services
• 40,978 care days in Recovery Services
• 72,642 care days in Housing Services
• 410 reflections & resources for Faith Development