Featured News
Featured News - Current News - Archived News - News Categories

Wed, Oct 15th 2014 09:00 am
On Friday, October 17 and 18, Leadership Niagara's Class of 2014 will host "Homeless for a Night," an overnight event aimed to raise awareness of homelessness and poverty in Niagara County.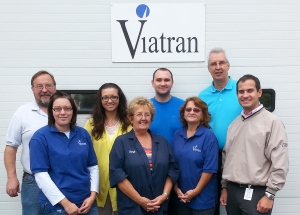 Mon, Sep 29th 2014 01:00 pm
Viatran, a worldwide leader in providing innovative pressure and level transmitters and based in Wheatfield, recently selected Community Missions as the benefactor for its Community Events program.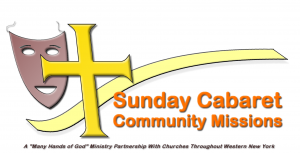 Fri, Sep 26th 2014 02:00 pm
The popular Sunday Cabaret program, a collaboration between Community Missions (CMI) and the Episcopal Diocese of Western New York, begins its third season this Sunday afternoon, Sept. 28.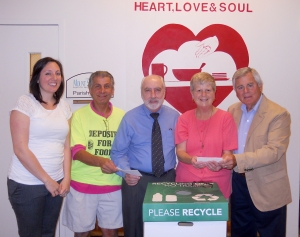 Fri, Aug 1st 2014 10:00 am
Last year, Lewiston resident Angelo Sarkees began the "Deposits for Food" initiative, collecting bottles, can and scrap to raise funds for a pair of Niagara Falls charities. In year two, the program's impact more than tripled, as Mr. Sarkees presented checks of $1,000 each to Community Missions and Heart, Love and Soul on Thursday.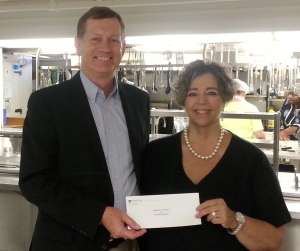 Tue, Jun 10th 2014 04:00 pm
NIAGARA FALLS, N.Y. - In 2013, Community Missions provided 75,980 meals to those in need in Niagara County, an increase of over 5,000 meals from 2012. With demand again increasing in 2014, the Patrick P. Lee Foundation recently awarded a $30,000 grant, covering a year's worth of food purchases within the Mission's Community Soup Kitchen.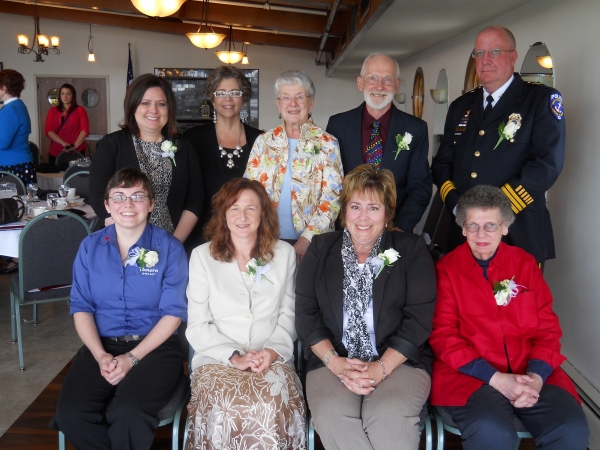 Thu, May 29th 2014 09:00 am
NIAGARA FALLS, N.Y. - Community Missions of Niagara Frontier, Inc. (CMI) held its 22nd Annual Compassion in Action Awards Brunch Thursday afternoon to honor many of the volunteers and supporters that make its mission possible.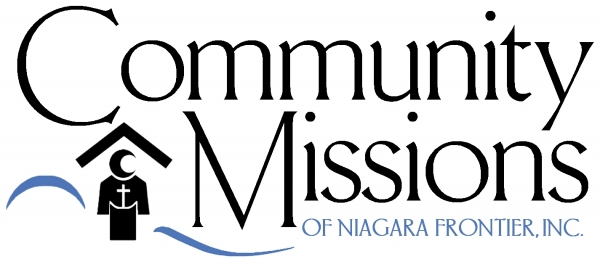 Wed, Apr 16th 2014 03:30 pm
During a winter season with record snowfalls, demand rose considerably in the Crisis & Community Services Division at Community Missions, located in downtown Niagara Falls. The Mission saw a 24% increase in demand for its Crisis Housing, including an alarming 156% increase in nights of shelter given to children during the first three months of 2014, as compared to the first quarter of 2013.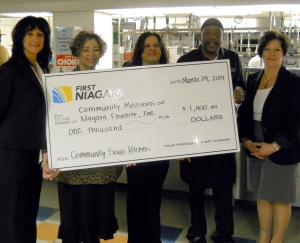 Mon, Mar 24th 2014 03:00 pm
The First Niagara Foundation and Community Missions of Niagara Frontier, Inc. are partnering to provide food for local families in need through the Community Soup Kitchen. The Kitchen opens its doors six days a week for a well-rounded, nutritious lunch.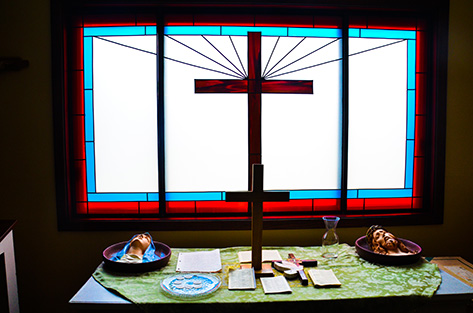 Thu, Mar 20th 2014 03:00 pm
In 2013, Community Missions' Ministry & Community Partnerships offered 118 opportunities for faith and spiritual development to those it serves, and totaled 83 community partners, according to information released by the agency Thursday. The total equates to offering an activity or opportunity for engagement once every three days to Niagara's most vulnerable.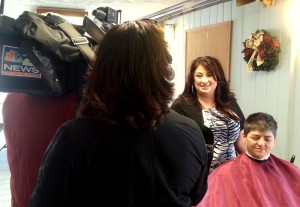 Sat, Dec 14th 2013 03:00 pm
Community Missions received a tremendous amount of media coverage for its #GivingTuesday initiative on Dec. 3. See below for links to many of the articles and videos covering the event.
By The Numbers...
In 2022, Community Missions provided:
• 13,647 nights of shelter
• 218,178 meals
• 1,425 individuals with clothing
• 2,886 care days in Youth Services
• 40,978 care days in Recovery Services
• 72,642 care days in Housing Services
• 410 reflections & resources for Faith Development